August 25, 2014
The Long Way Home by Louise Penny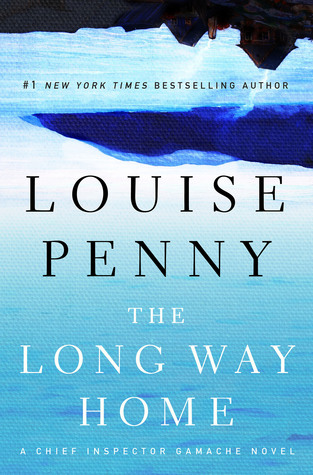 It was almost exactly a year ago that Louise Penny's How the Light Gets In came out, a book I was so excited about that I purchased it the day of its release. And I loved it—it was one of my favourite books of the year. All the usual suspense and emotion and I've learned to expect from a Louise Penny novel, and then she goes and pulls this literary sleight of hand that was so exciting and perfect. The novel concluded the plot of police corruption that had been building since Penny's Inspector Gamache series began, and it was with some sadness that I concluded that the series was probably finished, retired along with the Chief Inspector. What a way to go though–it was an absolutely terrific novel.
So I was surprised and pleased to discover earlier this year that there was more Gamache on the horizon. The Long Way Home finds Gamache retired to Three Pines, looking for a break from homicide (though Three Pines really is the last place I'd ever go to find such a thing). He's uneasy, a bit restless, watchful of his protege (who is also now his son-in-law), concerned that Jean-Guy might slip back into addiction. Concerned for his own mental health too, as is his loving wife, Reine-Marie, who knows that Armand has not yet found the peace he so desperately requires. So she's unsurprised but also worried when their neighbour and friend, Clara Morrows, comes to him with yet another mystery to solve.
Clara's husband Peter is missing. They'd agreed upon a year's separation, after her surprise success in the art world caused friction in the dynamic of their marriage, and on the set date, he didn't materialize. She hasn't heard from him at all, which wasn't like him, and she is fearing for his safety. Having lived in Three Pines long enough, Clara is well aware that no mystery brings with it a simple solution, and that murder lies at the heart of most things, so she's concerned. As is Armand, and Reine-Marie, and all their other friends, who band together to find Peter. They trace his travels across Europe, to a strange place in Scotland called the Garden of Cosmic Speculation, to Toronto, Quebec City, and then into the wilds of the province. Going on instinct, vague clues, discerning locations from Peter's paintings, and interviews with people who'd seen him during the past year, they're able to piece together Peter's own story, which seems more and more suspicious the closer they get to finding him. Their sense that Peter is in danger turns out to be well-based, and it becomes clear that time is of the essence.
It was always going to be difficult to follow up Where the Light Gets In, which tied up so many loose ends and came together so majestically. The Long Way Home seems to be much less organic in its construction, requiring suspension of disbelief from the reader for the plot to make sense, and the plot itself cobbled together of pieces rather than woven into a whole. Part of the problem is that for much of the book, the mystery that needs solving is less than pressing—the whodunnit is more like, "Who done what?" There's not even a murder until quite late in the book, which for Three Pines is all-time record, and quite unfathomable. And that the residents of Three Pines would have the resources (time and money) to devote to finding their friend, whose imperilled state is not really apparent, seems unlikely. It's the kind of book that when you start to read to closely all sort of falls apart.
But. If you're a fan of the Gamache novels, there's no way you're going to miss this one. The place seems so realized, and it's people familiar—how could you not want to know what happens next? And while the pieces don't come together terribly well, the pieces themselves are fascinating, revealing remarkable corners of its author's mind, her preoccupations. If you're new to the series, then definitely go back to the beginning, and don't read this one before How the Light Gets In. Which was always going to be a book so hard to follow up.