July 14, 2014
Comics Comics!
I know that comics lovers are a territorial lot, so I'll state that I'm in no way impinging upon their authority, but rather documenting my own discovery of passion for the form. I'm a comics newbie (years of Archie-reading aside) but panel by panel, I'm falling in love. We benefit greatly from having Little Island Comics around the corner from our house, but there is also a fine selection of comics available through the library. And as Harriet gets bigger and we don't read together quite as often as we once did, sharing comics has been a terrific way for us to experience books together.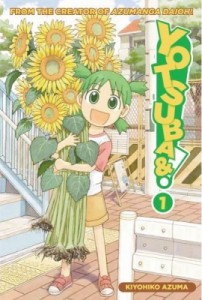 Yotsuba: This series was a discovery by my friend, Rebecca Rosenblum, via the five year old in her life. She thought that Harriet and I would enjoy the books too, and she was completely right. These books are a manga series about a little girl called Yotsuba (whose name translates as "Four Leaf Clover), a quirky five year old with a unique way of seeing the world. Yotsuba has a curious  if vague background–her adoptive father claims she is an orphan whom he picked up while travelling abroad. The series begins with her and her father settling into a new home in Japan, meeting their neighbours and discovering their new community. Yotsuba is more naive than most five year olds, resulting in amusing misunderstandings, and she is also just like five year olds everywhere in her emotional range and strong passions. She's funny, gutsy and sweet as she takes part in everyday adventures. Her stories also give North American readers insight into children growing up in a culture different from theirs own.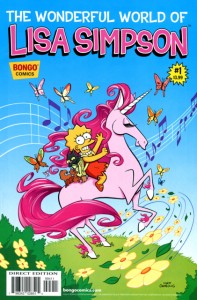 The Wonderful World of Lisa Simpson: I wrote about this book already after we'd borrowed it from the library, and then we bought our own copy. I think Lisa Simpson is a great character, and this comic is a good introduction to her. In the first story, she imagines herself as ruler of an ancient utopia, but best intentions go awry. In the second story, Lisa signs up Santa's Little Helper for a dog show, and realizes that neither of them are really the competitive type. And then the final story, in which Lisa opens up her own Little Free Library on the Simpson's front lawn, but all those books are wasted on the philistines in her midst. I appreciate this collections because each story is written and illustrated by women, which I understand is pretty rare in comics, and also because each artist approaches the images in a slightly different way, giving us new ways to see these characters which have become so familiar. And because it's a comic about a lending library… the BEST!
The Incredibles: Secrets and Lies: I dislike cartoons and children's movies, but The Incredibles is the exception that that rule. I've seen the movie many times and spent every more time discussing its plot lines and gender politics. Plus, it is funny, and I love that Harriet is a fan of Violet–there are worse role models. So we were happy to borrow The Incredibles: Secrets and Lies from the library. It's a great story in which mother Helen gets a starring role, and then I started channelling Holly Hunter when I read her parts, which might have been irritating to listen to, but was exhilarating to experience. I do appreciate these characters, which so deftly meld my fascination with domestic fiction to Harriet's with super heroes. There are other books in this series, and I look forward to reading them soon.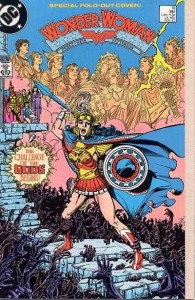 Wonder Woman: Challenge of the Gods: Wonder Woman was where our family's comics love began. At Little Island Comics, they sell old comics for a dollar so we started reading Woman Woman issues randomly. Harriet adores them, though I'm not sure how much she understands, and the story lines are so interesting, involving elements of Greek mythology and Wonder Woman's whole fascinating origin story. These are a bit dangerous though for two reasons: first, that Iris likes to tear the pages, whose flimsiness suits such an activity, and also that some of the story lines are a bit too adult—I kind of had to tiptoe around the Zeus/Wonder Woman rape plot line, but Harriet didn't notice. It didn't bother me enough to stop reading them though, mostly because I want to see what happens next. Which I have a feeling was what the series' writer had precisely intended.