June 23, 2014
One Kind Word: Women Share Their Abortion Stories
"I had an abortion." This is not a confession, but instead is the phrase with which my essay, "Doubleness Clarifies" (which was published in The M Word and online this spring) has been received by readers, more than any other, or at least it seems as such from my point of view. And these readers are not confessing either, but rather are stating a fact of their lives, a fact they seem eager to share. Like me, I suppose they've spent a long time feeling as though abortion stories were not to be shared, and they were grateful finally to have an excuse to talk about this fact of their lives, a fact which has been perhaps sad, complicated, maybe neither, but undeniably important.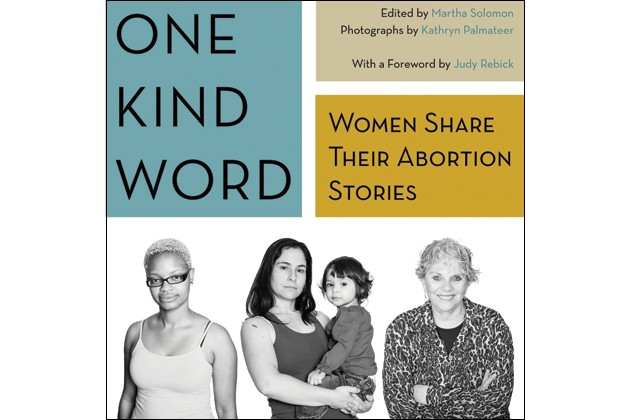 It's not shame that keeps women from talking about their abortions, but rather fear of seeming impolite. It's funny that in a society in which 1/3 of adult women have had abortions and most people understand the procedure to be a necessary part of women's health, that we kowtow to the sensibility of  a minority whose vocal stance allows them to set the tone on the issue. That abortion is unseemly, dead babies, something that marks us, something which we have to hide at all costs.
All costs? The huge cost of hiding our abortion stories, of course, is that the vocal minority gets to tell us everything we know about abortions, much of which is wrong. (Increased breast cancer risks, post traumatic symptoms and regret, photos of aforementioned dead babies.) They get to influence the people who make the legislation, because the rest of us are too polite to speak up. They get to tell us everything we know about the women who have abortions too, which is that there is a type of woman this happens to and that her experiences are uniform.
With the new book, One Kind Word: Women Share Their Abortion Stories, edited by Kathryn Palmateer and Martha Solomon, with a foreword by Judy Rebick, we learn that everything they told us about abortions, and the women who have them, is wrong. In striking portraits—photographs accompanied by short first-person essays—we learn that women who have had abortions are women of all ages, backgrounds, and experiences. We learn than many of them are mothers. Others never wanted to be mothers, and it's that certainty that made the decision to have an abortion quite an easy one to make. Some women look back on their abortions with mixed emotions, or sadness, grief or relief. And most of them look back and are grateful that the choice was theirs to make.
As I wrote in my essay in The M Word, reproductive freedom remains a revolutionary thing for a woman to get away with. Not because we don't get away with it, but because when we do, we don't talk about it. Which leaves a woman contemplating abortion or who's had an abortion feeling that she's so alone, that no one has ever been where she's going and come out fine on the other side. And so that's why a book like One Kind Word is so hugely important, representative of the real experiences of so many women. Experience as depicted by those who've lived it rather than those for whom abortion is an abstract moral issue—this is so significant. The book is also important because it creates a space where women who've had abortions can see themselves reflected, and the book provides an occasion for women to speak up and say, "This is my story too."
One Kind Word was an online portrait gallery before it was a book, the project gaining huge momentum and inspiring so many women to be a part of it. (It also has a precedent with Jennifer Baumgardner's Abortion and Life.) Many participants note that they felt as though they had an obligation to speak up in order to counter the abortion rhetoric which has been hijacked by patriarchal interests, to speak up for those countless other women who did not yet have the courage to represent.
This was not a book that told me anything I didn't know already, instead confirming the fact that I exist. Which is not meant to be an honourable purpose for a book, literarily speaking, though anyone who's ever told you this has probably been a man who sees his existence confirmed in his reflection in most everything he ever encounters.
The book's editors write of their intention to have a copy of One Kind Word in every clinic waiting room across the country, and while this is a very good idea, I'd like to have it gracing coffee tables too. First, because it's a book of beautiful images, good for flipping through, but also because it places our abortion stories right where they belong—firmly ensconced in the domestic ordinary of our various and remarkable lives.
One Kind Word launches tomorrow night (June 24) at Another Story Bookshop in Toronto.