June 22, 2014
Based on a True Story by Elizabeth Renzetti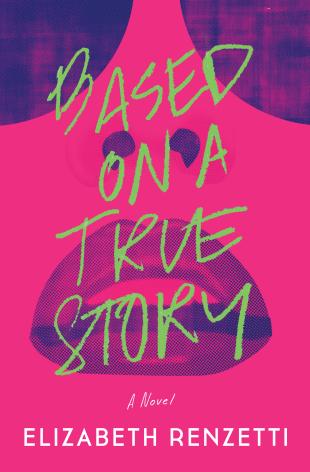 I make a point of reading everything Elizabeth Renzetti writes, her Globe and Mail column one of my Saturday morning go-to's. So I was always going to read Based On a True Story, her first novel, which Renzetti describes as "an alcohol-soaked comedy of failure and revenge". I was thinking Kate Christensen's In the Drink, Lucky Jim, and "Absolutely Fabulous meets The Devil Wears Prada,"as its back cover tells us, a blazing pink cover with lips, a lurid green type. The green is referential, the same lurid green as the book in the book, a book also called Based on a True Story, which is a surprise bestselling memoir was washed-up soap star and notorious drunk, Augusta Price. I was thinking also that Renzetti's novel would be a send-up of tabloid culture and the current state of journalism (especially post phone-hacking scandal) in the style of Annalena McAfee's 2011 novel The Spoiler, which had a similar set-up, but Renzetti has her tabloid journalist (young Frances in her cardigan) sacked not far into the story (which I suppose is a reflection on the current state of journalism in itself), so the narrative turned into something different. Something more like another novel about a woman called Augusta, Graham Greene's Travels With My Aunt, mainly in that there are many many madcap shenanigans.
After far too many silly novels trying oh so hard to be smart, it was really refreshing to discover a smart novel that wasn't afraid or ashamed to be silly.
The writing is as sharp and skilful as you would expect if you'd ever read a Renzetti column, with snappy dialogue and perfect cultural references. Augusta Pierce is a fantastic character, and another notable literary bolter, her complete lack of maternal instinct and similar lack of compunction for such a lack refreshing to encounter. Her self-destructive tendencies too—such a smooth slide down the spiral. And she's got charisma, which explains her hangers-on—old friend and saviour Alma Partridge, one-time paramour Kenneth Deller (who now makes his living as "Mr. Romance," host of a radio call-in show for the lovelorn) and pines for her across the world, and Frances the sacked journalist who agrees to ghost-write Augusta's next book, but not before accompanying her on a journey to California to stop Kenneth Deller from writing his tell-all book first.
Augusta goes to great lengths to assert that her own book is just a version of the truth, the version she chose to share, though the excerpts from it that we're privy to attest to its being a compelling read all the same, or perhaps because of this. (You really can't always say this about excerpts from fictional books either. I will admit to skipping all the italicized parts of Possession.) And Augusta herself, with her sordid history, her mountains of baggage and disappointments, comes to be such a multi-dimensional character that it's too bad that she's given such a two-dimensional world to live in, that the narrative Renzetti constructs is less plot than scaffold. Material this good seems deserving of more.
Still, Based on a Truth Story is a worthy novel based on its insights, if not its plotting. Renzetti resists cliche in more than a few places, but in particular with her conclusion and its dose of sober realism (or unsober realism, as the case may be). "We have work to do," says Augusta Pierce in the novel's final line, and so too does Renzetti, and I hope she's prepared to get hard at it one of these days, because her second book is going to be wonderful.