June 17, 2014
Hipster Picture Books
By "Hipster Picture Books", of course, I mean books with a focus on design over content, I mean the board book as status symbol. The kind of book a child might not necessarily choose on her own, but her parent will buy it for her as sort of an aspirational thing. To aspire to have a child who lusts for a Pantone colour book. And the great thing about these books' smart design and vibrant colours is the child will like it after all, will eventually be seen at Brunch clutching said book, and then you get to be the kind of parent you always always dreamed of being. Post it on Facebook, and rest on your laurels after that. Undoubtedly, a Sunday well spent.
I am only half-kidding.
I bought Iris Pantone: Colors for her birthday, and she likes it. It's visually appealing, and I appreciate its overall message–that there are many shades of grey, and red, and green, and every colour, for that matter. We live in a complicated world, but it's beautiful. Facing each page of shades is an object in said colour–red wagon, brown teddy bear, blue teapot etc. And then at the end, we're faced with a rainbow of objects, and this page is an exercise in naming–pickle, monster, kangaroo, bow tie.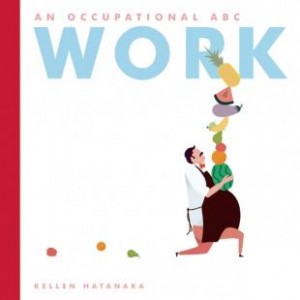 I am also pretty in love with Work: An Occupational ABC by Kellen Hatanaka (out in August). The minimalist illustrations still reveal vital details and are smart and dynamic. I love the way that each letter of the alphabet is embedded into the illustrations in clever ways (i.e. I is for "Ice Cream Vendor" the ice cream is being vended from the I itself'; the A in "Aviator" is part of the mountain range; the P for "Postal Worker" is a cumbrous package on the postie's back). Points for some very cool jobs I wouldn't have considered: O is for Oceanographer, N is for Naval Architect (none of them thriving industries, I am sure, but still…). And then an amusing glossary of terms at the end: "Zookeeping might be the only job that encourages monkey business." Fun.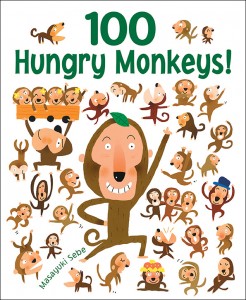 The exuberance of 100 Hungry Monkeys doesn't really qualify it as a hipster picture book (hipsters are not allowed to get excited, except about drinking Pabst Blue Ribbon on a park bench, or riding a unicycle, but in either case, would never show it). But its visual appeal puts this book in the mix, and it is definitely a good one. Author-illustrator Masayuki Sebe has created a fun story about the concept of the number 100, one whose prompts urge readers to examine the illustration for details and clues in a Where's Waldo fashion. This is another run one for early readers and their parents to read together, reminding both that books and reading are fun.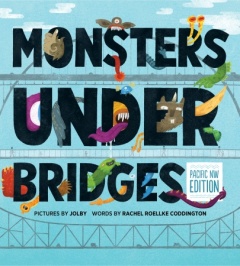 And finally, Monsters Under Bridges by Rachel Roellke Coddington and Jolby is not really a hipster picture book, but it is geographically situated in the Pacific Northwest, so there you go. It is a concept I wasn't entirely sure about at first–a travel guide featuring notable bridges and describing the fabled creatures who live under them, their lives and habits. Perhaps its a regional thing, I wondered? But then Harriet, who has never once been to Seattle, loved this book, and had me reading it to her over and over again, her mind expanded by the crazy creatures imagined within. And through her (which happens often), I discovered just what this book was all about. BONUS CANCON: Ronoh who lives under the Ironworkers Memorial Bridge in Vancouver BC, who smells like seaweed and wisdom. Plus Margot the Maripolo, beneath the Capilano Suspension Bridge and Sherman who lives under North Arm Bridge in Richmond BC (who likes to strap himself to the front of the SkyTrain).