June 15, 2014
Bookish Sunday in the Sun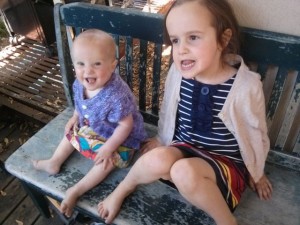 For Father's Day, we gave Stuart posh coffee, Jo Walton's Small Change series (which is probably a gift for both of us), and Tigana by Guy Gavriel Kay (because of this recommendation in 49th Shelf's Shelf Talkers series). Iris has become a full-fledged biped, and it's no coincidence that her sleep habits have also become transformed in the past week. She has finally started napping in her crib, taking her naps later, and staying asleep for a couple of hours. Her nighttime sleep has also improved, which meant that we're feeling a little less tired than usual this weekend. It also means that Iris has become a lot less portable, and we're not going to sacrifice her proper nap for anything. So we went out for a Father's Day brunch this morning, and then came home so Iris could sleep while Harriet watched innumerable episodes of The Riders of Berk. I drank tea and read my book, and it was bliss.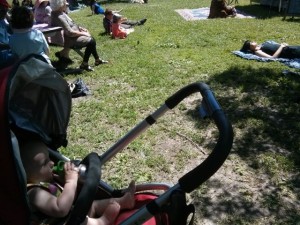 It meant, however, that it was nearly 2pm by the time we departed for Trinity Bellwoods Park and the Luminato Literary Picnic. We had a splendid walk there, Harriet scootering, walking or being piggy-backed, while Iris was chauffeured in the stroller. We ate gourmet popsicles, and then Harriet went to play in the playground, while Iris and I checked out literary fare. I heard a few writers here and there, but the only writer whose whole presentation I caught was KD Miller's. She was fantastic, and no surprise–her book got a rave review in Macleans this week, and Vicki Ziegler had been sharing Angie Abdou's great review in Quill & Quire.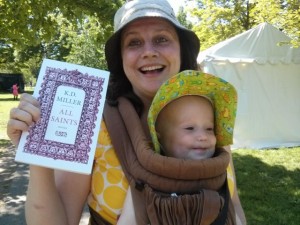 So I was pleased to hear her read, and then to have her arrive at the sale table just as I was about to buy her book, so she could sign it for me. Reviewers have stressed that indeed, a writer can situate interesting stories within the walls of an Anglican Church (the book's title, All Saints, refers to said church), but seeing as I am a card-carrying member of the Barbara Pym Society, they'd be preaching to the (church) choir.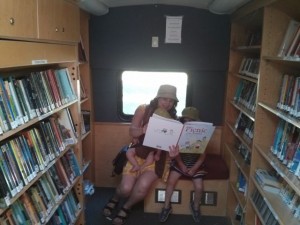 After that, we hit the bookmobile, which is always an amazing adventure: a bus full of books! A library on wheels! The bookmobile will never cease to be remarkable. We got a book for Iris and Harriet each, and then Harriet wanted to get a comic too. She sorted through the stacks and selected The Wonderful World of Lisa Simpson #1. I think she picked it because Lisa is riding a pink unicorn on the cover, because Harriet has never heard of the Simpsons. But that was the point of the cover I think, and now Harriet has heard of the Simpsons and we had a good time reading the comic together. (It was strange having to introduce someone to Bart Simpson. I also like that it's a cool comic geared to young girls, whose writers and artists are women.) The best: in the final story, Lisa opens her own Little Free Library to disastrous results. A comic about a lending library? It was dying and going to book nerd heaven.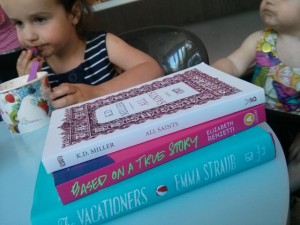 After that, I went across the street to visit Type Books and pick up some of the books on my list. I got The Vacationers by Emma Straub, which had been included in Chatelaine's Summer Reading Guide. And I got Based on a True Story by Elizabeth Renzetti, which had an amazing review in The Globe yesterday. And then we walked home along Queen Street and up Bathurst, stopping en-route at Yogurtys because we really hadn't had enough dessert. Plus, they were giving away free fro-yo for dads, so that was spectacular all around.