June 15, 2014
Blanche Howard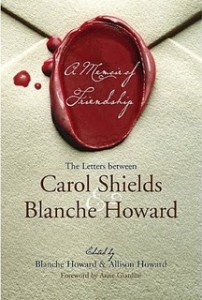 I was sad today to hear the news of Blanche Howard's death at the age of 90. I knew Howard best through her extraordinary collection of letters with Carol Shields, which I read for the first time in a hammock in 2007, and a second time a few years later. I'd also read her novel, Penelope's Way, and Celibate Season, the collaborative novel she published with Shields in the 1990s. When she and Shields began corresponding in the 1970s, it was actually Howard who'd been the most experienced writer of the two, generously providing the novice Shields with advice as the latter embarked upon the publication of her first book. An extraordinary friendship would grow between the two of them, and Howard's characteristic generosity continued as she shared their letters with readers in A Memoir of Friendship. (Generosity was a trait both friends had in common.) The letters are a remarkable documentation of the course of women's lives–the joys and trials of motherhood, the better and worse of marriage, the pains and injustice of aging. Their discussions of feminism and politics were illuminating and important. And so too their stories of the writing life.
Shields was a very special writer, and entirely deserving of her good fortune, but she did strike literary gold with The Stone Diaries, which took the world by storm and everything she touched ever after seemed to turn to gold. This was not necessarily always going to be her destiny (though, as a reader of the letters will note, her success did not seem to change her a bit). Howard, on the other hand, had more of a struggle, starting off strong with her novels in the 1970s, then her books went out of print, and while she never stopped writing, it would be years before her next book was published (in addition to A Celibate Season). She self-published an e-book in 2010.
This is a far more typical story than Shields', a familiar trajectory for most writers who do not go on to win the Pulitzer. Howard's story was a lesson in endurance, persistence, and optimism. In writing for the love of it. In growing old but staying sharp, learning and growing all the while. (It's a lesson in courage too–Howard bore loss of her husband after years of Alzheimer's Disease and the demands of his caregiving.) In our society, we're not always interested in hearing from women later in their lives, as Howard's failure to secure a publishing contract would attest. It's a difficult world out there, but it's even harder for a woman with grey hair. Hard work is not always necessarily rewarded.
And yet, there is something in the struggle, which is what I learned from Howard. This is what life is after all. To reach but never quite make it. The striving is an achievement though, and it shapes a life, makes it rich with experience and vision. It is certainly not an ordinary life. Hers was a way of truly being in the world, and I so admire that. It's so important for us to have these kind of examples of the kind of women we might grow to be, women with strength, and dignity. A life rich in friendship. Truly, she made a mark on the world, and her loss will be felt by her readers and the people who knew her.
(Thanks to Allyson Latta who shared the news of Howard's death, as well as an essay she'd written called The Stories We Tell.)