June 12, 2014
Viviane by Julia Deck and Linda Coverdale, trans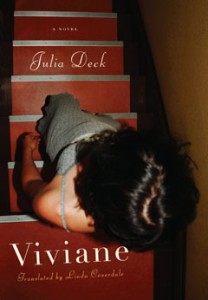 Viviane by Julia Deck, translated by Linda Coverdale, is a spectacularly deceptive novel in a variety of ways. A small book, at just 149 pages, I figured it would be a quick read, but it wasn't because I read it twice, and then skimmed it again. Deceptive too because I thought I knew what I was getting into, but I didn't. I'd recently read The Dinner by Herman Koch, and Viviane was comparable—a narrative voice whose grasp of reality is hard to gauge, is she the problem or is it the world? But while Koch's unhinged narrative comes at his story with a terrifyingly cold sense of control, Deck's Viviane has lost control and scarcely even realizes.
She knows something is amiss though–"You are not entirely sure, but it seems to you that four or five hours ago, you did something that you shouldn't have." (The narrative moves between first, second and third person, employing also the informal second-person that would be clear in the novel's original French, and the first person collective–this movement signifies Viviane's tenuous hold on her own self and her story.) She seems to think that she's just killed her therapist, cold blooded murder, but then she's torn between hiding her crime and going back to the scene to find out exactly what had happened. Throughout all this, she's caring for her 12 week old infant daughter on her own, having just left her husband and a disastrous marriage. She's been on maternity leave from her job as a communications executive at a cement company, and she's terrified that she's being edged out of her job just as she was forced from the marriage.
It's a disorienting novel. Viviane dashes around Paris, stashing her infant wherever she can manage. She tracks the other figures in the murdered therapist's life, scours the papers for details, haunts her ex-husband and maintains a complicated relationship with her mother who may or may not be dead. It is never clear whether her reports are accurate–she starts one day twice, seemingly with no memory of the other. Her grasp of time and place is clinging and desperate. The baby herself is not a convincing presence, though nor is she for Viviane herself, or any mother of a newborn:
"There's this child in our hands and we wonder how it happened. The babysitter handed her over without a fuss, pretending to believe she was our legitimate property. We sneak off with her… Once safely in the sixth-floor apartment, we settle into the rocking chair and observe the child for a very long time, waiting for a response, a revelation."
Viviane is deceptive also because it's rife with mysteries that are never solved. What went wrong in the marriage? Is she experiencing postpartum psychosis? Is the child in danger? How much can we believe of what she tells us, particularly since she doesn't really believe any of it herself. And yet even without answers, Deck weaves an intriguing web of possibilities.
Viviane made a huge impact on the French literary scene when it was published in 2012, winning the French Voices Award, and Nominated for the Prix Femina, the Prix France Inter, and the Prix du Premier Roman for a first novel.