June 10, 2014
In which we encounter The Book Bike
The neatest thing I've come across lately is the Meatlocker Editions Book Bike, which was at the Bloor Street Festival on Sunday. It's true that if you put up a red sign that says "Books", I will be on of the many curious people who come flocking, and my curiosity was more than satiated by what I found. The Book Bike is a community library on wheels, a very mobile way celebrate books and reading. The Book Bike turns up at community events and flocking readers are invited to take a book or leave one (and they are interested in larger book donations too–just drop them a line).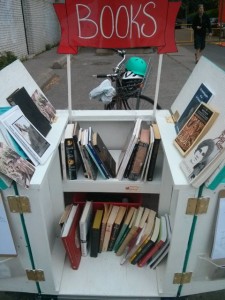 In addition to pedalling books around the city, Meatlocker Editions are also in the business of inspiring readers and writers through various projects, including workshops and publications. Their focus is supporting young women writers, a most inspiring response to the under-represenation of women's voices in literary spheres.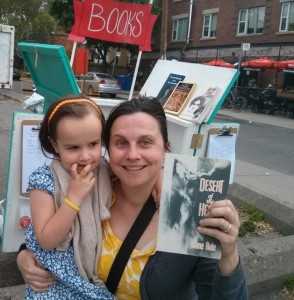 There were some very cool small press gems on display on the Book Bike. I was quite thrilled to get a copy of Desert of the Heart by Jane Rule, which Karen Hofmann recently included on her "Barefoot Girls and Wild Women" list.
All in all, a most spectacular encounter. Go MLE!