June 6, 2014
Market Wine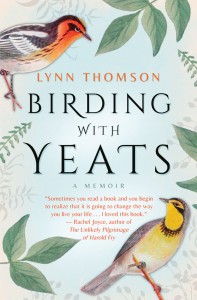 I've had no blogging mojo this week—sometimes this happens. I have also been incredibly tired, a condition that will not be ameliorated by my attendance on Harriet's school trip to the High Park Nature Centre this afternoon. With the baby in tow. In my experience, shepherding 20 kids on the subway is one of the more crazy-making circumstances of one's life. But the weather is beautiful, and I think we're going to have a great afternoon. Tonight's plan is wine on the porch, followed by Top of the Lake. The wine is from the Farmers' Market, which means that the Farmer's Market (and summer) have returned to us, and also that wine is now permitted to be sold at local markets, and both of these points are incredibly pleasing. So I am looking forward to tonight, though not so much, because I find that evenings that are too anticipated usually result in my cleaning up one of my children's vomit. Somehow, they just know.
Also pleasing, I wrote a review of the memoir, Birding With Yeats, by Lynn Thomson in the National Post. It's a curious book which only became weirder the more I thought about it, which I mean as an endorsement, actually. The fact that I thought about it so much, mostly. I was also reading it at the same time I was reading A Siege of Bitterns and Pluck. So many birds. It inspired me to create a list of these books and more–as ever, putting a bird on it is popular.
And I was thrilled by this review of The M Word in The Winnipeg Review this weekend by Angeline Schellenberg. She got the book exactly, and wrote about it so well. I loved, "Some moms decorate Barbie cakes in their sleep. The M Word is a kind of What to Expect When You're the Rest of Us" and  "A book about motherhood that includes those who never gave birth? Those who've been pregnant but never held a child? Halleluiah! Finally: a conversation with no "us versus them." Here is only "us," those who desire to "be connected by this understanding of what it is to love and celebrate your children." The M Word offers what mothers (new and old) need most: to know we're not alone." So proud of this, and pleased that this book continues to find its way into the world.