June 3, 2014
A Conversation About Mothers in Children's Books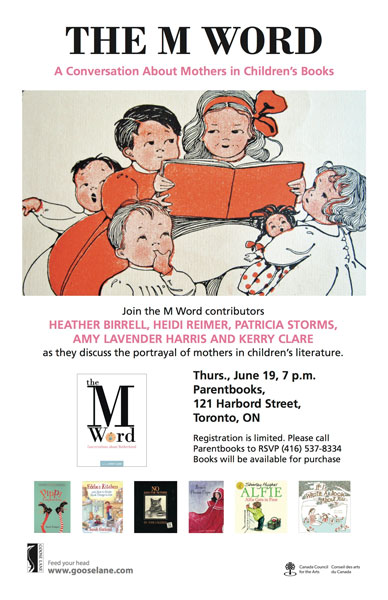 I'm really excited about the event we have scheduled for 7pm on Thursday June 19 at Parentbooks in Toronto (121 Harbord Street, just west of Spadina). I will be there, alone with Heather Birrell, Heidi Reimer, Amy Lavender Harris and Patricia Storms, and we'll be talking about representations of motherhood in children's books. Having chosen some of our favourite examples, we'll be doing readings from the books and discussing why these stories are important to us, and also tying their themes to the broader themes from The M Word anthology. It's going to be an intimate gathering, and I do hope that audience members will arrive with their own ideas for discussion.
Space is limited, so you are asked to RSVP at Parentbooks (416-537-8334).
The M Word will be for sale, along with some of the other books under discussion
I hope you can make it!