May 30, 2014
4 Mothers 1 M Word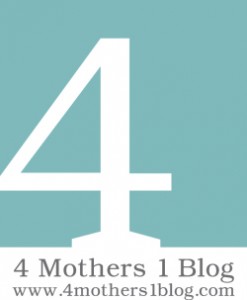 I've been so happy to follow along as the writers at 4 Mothers 1 Blog have been responding to The M Word all week. Nathalie Foy wrote about reading the book as an exercise in empathy, noting: "It was glorious to look into that kaleidoscope and feel as much myself as ever; it was wonderful to look at difference without feeling the need to be different." Carole Chandran read the book and felt relief at how far she's come with carrying her own motherly burdens, which don't seem so burdensome these days. And Beth-Anne Jones wrote about ambivalence, of which in the book there is plenty expressed. She writes, "Parenting isn't about attachment or a helicopter, a tiger or a presence of mind; it's a harrowing see-saw ride with such soaring highs that it can shock the breath right out of you and thud-to-the-ground lows that will diminish you, gut you, scare-the-shit-out-of -you." I love that. 
And today, I get to add my voice to the mix, expanding on my "non-fiction anthology is a revolutionary act" idea to show that women's stories together are a powerful force and also the stuff that ordinary days are made of.
Thanks to Nathalie, Carole and Beth-Anne for having me, and for their wonderful support for The M Word.