May 23, 2014
Pluck by Laisha Rosnau, and a giveaway!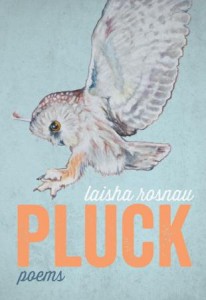 Having finally learned to read poetry has been the greatest revelation. And so I've been reading Laisha Rosnau's Pluck for the last six weeks or so, living with the book, dipping in and out of it, carrying it in my bag. One day after reading it in the sandbox at the park (as you do),  I opened it again while in bed and sand poured out of the pages, all over my duvet, which was definitely inconvenient but perfectly fitting too. Because Pluck is gritty, about nature and domesticity, about the spaces where they overlap, sometimes comfortably and sometimes otherwise. It's about the spaces where our selves overlap too, the people we are and who we used to be, and who we hope to be, and what we might become.
The first poem I read aloud at the table was "Accumulation," a poem that plays with language to illustrate the way that stuff builds up around us, particularly when you add children to the mix: laundry and plastic. And the heartbreaking, wonderful, so perfect ending, "Please me, you please, what pleases us, pleases them, again and again–yet/ how can we please each other, do each other justice, just us/ we and us and you and me and all we've collected, accumulated/ amassed, a mess, amen–"
These are poems about the chaos of family life, about what we have to prove to ourselves and each other. And this chaos is juxtaposed against a more natural order, a world outside where birds fly into windows and injured fawns show up on the lawn (and even inside the house, above the marriage bed, paintings of great horned owls hang on the wall). There are secrets and compromises in these tidy lives we have made, most strongly expressed in "The Music Class", formally a variation on the villanelle (I think, though this variation may be its own form) in which a woman takes her child to a music class to discover the child and wife of a man who'd raped her years before: "Out children go to music class/ at the same school I went to as a girl./ We make up a life… then, he kept the radio on and I caught notes/ in my throat when he forced himself in my mouth./ We make up a life,/ Sometimes on instinct. I kicked open the door/ instead of biting down though, if I had, perhaps/ our children wouldn't go to music class…"
The poems in Pluck are about the desire to create–our own lives, new lives, poetry–and about the way these desires are complementary and otherwise. I loved "Late" about a woman perusing obituaries critically (and I've been there–so fascinating): "The women, their lives canned and quilted, baked/ into the memories of their children, and I wonder;/ Really? Is that all that those left behind chose to record?/ I love a canned peach but, good Lord, if anyone mentions/ mine when I am dead, my time was not well spent."
Pluck is a curious, surprising and absorbing collection, rife with familiar points and then shifts to keep one from getting too comfortable within. It's a book that interrogates language just as it asks questions of the world, nudges into dark and dusty corners, and illuminates the complicated many-sidedness of love and life.
I was looking forward to this book, and it definitely lived up to my expectations. And so it is to my great joy that I can share the goodness. The publisher was kind enough to send me a review copy of Pluck, but I'd already bought a copy in the store (of course!) so I have an extra copy to giveaway. If you'd like a chance to win it, leave a comment below and I'll make the draw on June 1st.