May 21, 2014
A Siege of Bitterns by Steve Burrows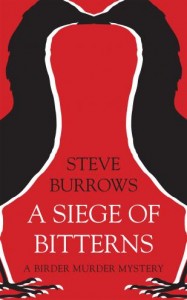 From the start, I liked the premise: a birder murder. Though I am not a birder myself, I am fascinated with the species (the hobbyists, I mean), and take a great deal of comfort from the fact that they exist in the world. I also like a murder mystery, particularly those set in the English countryside, so when I stumbled across Steve Burrows' book launch for A Siege of Bitterns at Blue Heron Books in Uxbridge not long ago, I was more than happy to buy the book. But would the book itself live up to the promise? Well, after a delicious weekend devouring it, I am happy to tell you: yes.
For some reason, television comparisons spring to mind. My beloved Midsomer Murders for one, with its semi-satirical and slightly absurd look at English society, and then also Broadchurch, in which the damaged, alluring, flawed detective genius rolls into town with a whole lot of baggage, and a high profile case is not the introduction to the job that he had in mind. The genius here is Domenic Jejeune, Canadian ex-pat and apparently a media darling, though we're told very little about either why he's admired or the past that he is fleeing from. He's just as much an enigma to his readers as he is to his new colleagues in the Norfolk town of Saltmarsh.
From the television references, however, one is not to think that part of A Siege of Bitterns' appeal is not its language. It's a book that will appeal to those of us who covet collective nouns, and apparently it's meant to be the start of a whole series (A Murder of Crows, A Charm of Goldfinches, etc). One of the book's greatest charms is Domenic Jejeaune's girlfriend, Lindy, a journalist, for whom grammar and editorial style is a preoccupation, which proves convenient to Jejeune as these semantical details turn out to be upon which the whole case rests. Birds and words: this is such a book for nerds! And I absolutely loved it.
The case is the murder of celebrity ecologist Cameron Brae, and the suspects begin lining up not long after his body is discovered hanging from a willow bough. Is it his unlikely second wife, a former Spice Girl-esque rockstar with a penchant for Motown music and a yearning to be her husband's intellectual equal? Or was it Brae's son whose cravings for his father's attention lead to involvement with a radical environmental group? Is this about wind turbines, the fragile climate of the salt marshes, landowners with no regard for conservation, or does it all come down to a fierce rivalry among birders to get to 400 species sightings, which Brae was unbelievably close to? What of the note Jejeune finds scrawled in Brae's study referencing the American Bittern? Could a man be murdered because of a bird?
Burrows' background includes extensive birdwatching experience around the world, and editorships at the Hong Kong Bird Watching Society Magazine and Asian Geographic, which I assume have led to the deftness with which he writes about ecology and ornithology, applying these ideas to the mystery genre in a way that doesn't feel like a stretch. I was a bit concerned in the book's opening when Jejeune's own background as a birder gives him special insight into a suspect's false alibi–it was a bit to convenient. But after that, the birding didn't seem conspicuous in the novel, and it was the mystery itself that had me so absorbed, as well as the complex and interesting characters that Burrows has created–Jejeune and Lindy, and Jejeune's Sergeant Maik.
It's obvious we're being set up for a series here–Burrows has deliberately left so many ends wide open, and I can't wait to find out where they lead. A Siege of Bitterns signals an original, well-crafted, clever and exciting new series on the scene, and it's a really terrific read.