May 20, 2014
On Visiting Winnipeg
I only knew Winnipeg through books, by Miriam Toews and Carol Shields and others, and so I had literary expectations of the city and it didn't disappoint me. And the Winnipeg books I know were newly imagined in my mind as we drove along Winnipeg's streets, streets whose winter had removed all road markings, as we visited so many of the city's neighbourhoods, a literary map come to life. I'd been checking out the official site of Tourism Winnpeg too, and they really do a terrific job of selling the city and I began to be sorry we weren't staying for a week. We were only staying for two nights, a day and a half. We decided to pack our schedule quite full.
We had the best flight ever (the baby slept, I read a book, and sipped a [terrible, but I won't quibble] cup of tea). Some people might have supposed that flying with two children was something to be worried about, but those people evidently didn't remember our disastrous flight to England last fall. This time, no one threw up, I didn't lose our passports in Amsterdam, and we landed it two hours. In comparison, our journey to Winnipeg was like a week at a luxury resort.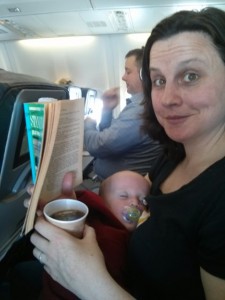 In Winnpeg, nothing is located very far away from anything else. This means that we were able to get off the plane and be playing at the Nature Playground at Assiniboine Park within the hour.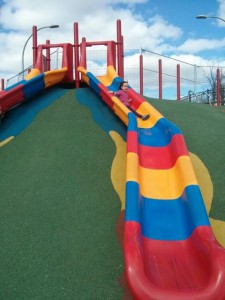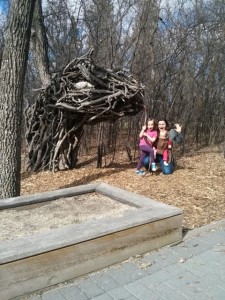 And already, we were awash in literary references as we encountered the Winnie the Pooh Statue (the bear having been named for the city, naturally.)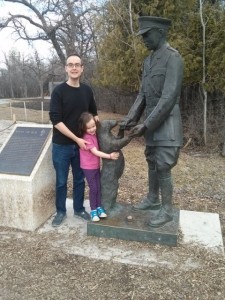 The next morning, we visited the Carol Shields Memorial Labyrinth at Kings Park. I wasn't sure it would be all that impressive without foliage, but turns out I don't really know labyrinths. Tracing its paths was twisty, wonderful and full of surprises. It felt very emotional being there and being able to connect with the spirit of a writer whose work means so much to me (and whose words are the epigraph to the essay in the book I was visiting the city in promotion of).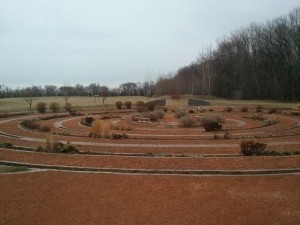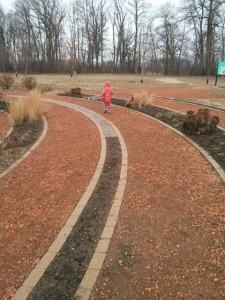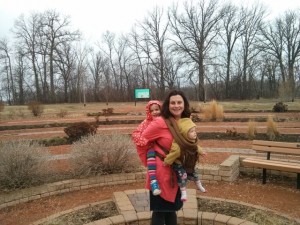 Here is a photo of Harriet, Iris and I at the centre of the labyrinth. I was also moved by Shields' own words which are etched into granite gates nearby, the granite in reference to her The Stone Diaries.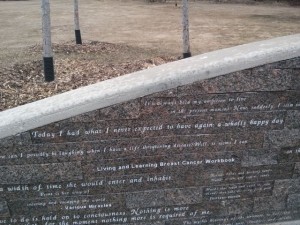 I was also excited to visit the Carol Shields Project Bookmark Plaque in Osborne Village, which makes reference to her novel, The Republic of Love.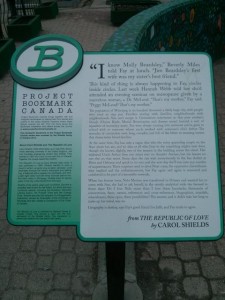 And then later that afternoon, we encountered another literary landmark when we saw Kerry Ryan's poems installed outside her boxing club in The Exchange neighbourhood. The poems are from her extraordinary collection, Vs. And the neighbourhood looked more liked New York City than anywhere else I've ever been.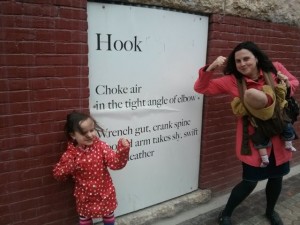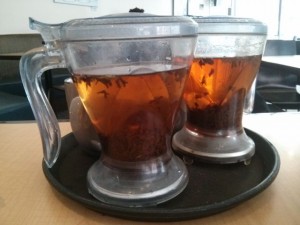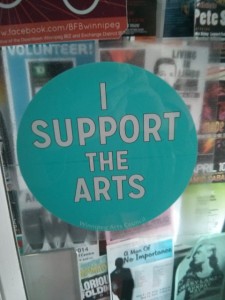 We took care to visit Portage and Main, which was famous for something, but we couldn't remember what.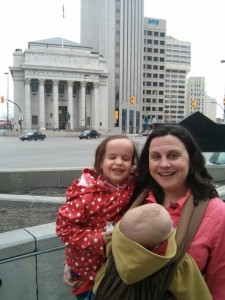 Then we encountered a horse.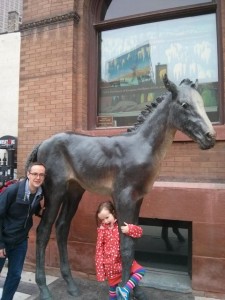 A highlight was the whole family hanging out in CBC Green Room as we waited for my radio interview. It was a pretty cool experience.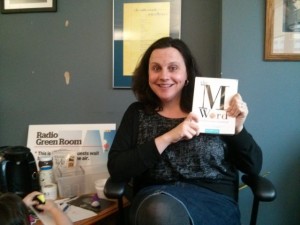 And then our wonderful launch that night at the extraordinary McNally Robinson Bookstore, where we were so welcomed and enjoyed a delicious dinner before the reading. And a quick shopping spree too. For it is impossible to visit a literary city like Winnipeg without coming away with a book or two. Or three.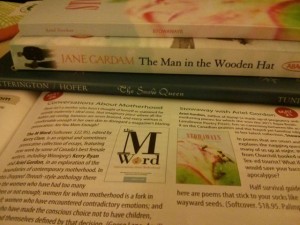 We had such a wonderful time.