May 8, 2014
Unexpected Mad Men read: Tales of a Fourth Grade Nothing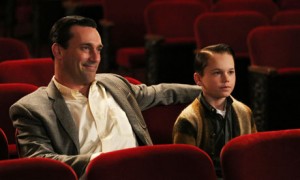 I wasn't expecting a Mad Men read when we started Tales of Fourth Grade Nothing a couple of weeks ago (which is significant for being Harriet's first Judy Blume). I remembered the stories in the book so well, but I'd forgotten the details, or maybe I just hadn't noticed at the time. Like how its backdrop was 1970s' New York City, and how Peter is allowed to walk to Central Park alone to play with his friends when the weather is good, but he's wary of muggers. "I've never been mugged. But sooner or later, I probably will be. My father's told me what to do. Give the muggers what they want and try not to get hit on the head." His parents are concerned about dope-smokers who hang out in the park. "But taking dope is even dumber than smoking, so nobody's going to hook me!"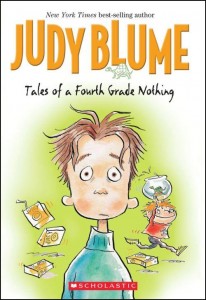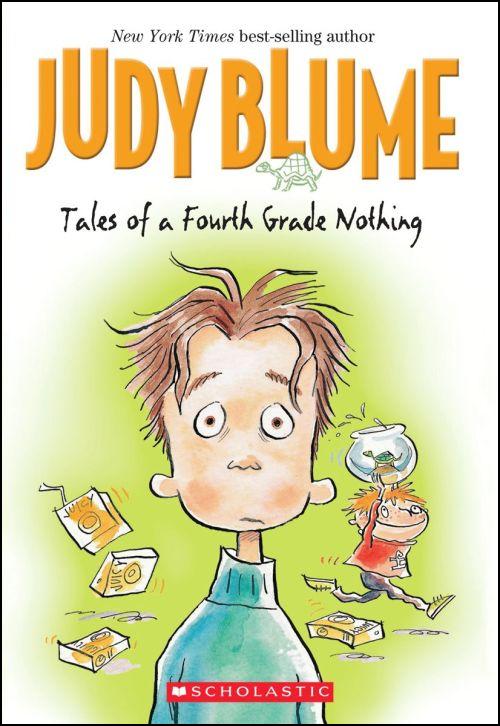 Warren Hatcher is totally Don Draper, though I suspect not as dashing and probably not so lucky with the ladies. He works for an advertising agency and, like Don in his more domestic days, is expected to use his status as family man to further himself professionally and win accounts. Because of the antics of his youngest son, he ends up losing the Juicy-O account. When his wife goes out of town for a few days, he brings the kids to the office and leaves them in the care of his secretary, Janet, who seems fine with the amusement of small children being part of her job description. While at the office, Peter and Fudge stumble onto auditions for the Toddle Bike commercial, and Fudge captures the heart of the company's president. As ever, disaster ensues, but Fudge gets to be on TV. The next day, Warren/Don takes the kids to the movies, even though Fudge is only just three, and he sits Fudge on the end of the row. Unsurprisingly, he goes missing. And even without the disaster, it would have been a very Don Draper parenting move.
He even makes omelettes, which I remember as a Don Draper speciality! His children can't believe he knows how to cook at all, and he actually doesn't, because the omelettes are inedible. We finished the book amused by the Don Draper-ness, but a bit disappointed in the gender roles reinforced in the book. But then it was first published in 1972, so what do you expect?
Except that we started reading Superfudge, and it seems that Don Draper is evolving. He's taking a year's leave from the agency to try writing a book about the history of advertising and its effect on the American people. The idea is especially appealing to him because he's looking forward to staying home with his family, to experiencing his daughter's babyhood when he'd been absent for the other two. He's even started changing diapers!  No word if he's cut down on the smoking or the drinking though, or of what Roger Sterling thinks of the sea change.