May 1, 2014
Hideout Hotel by Janine Alyson Young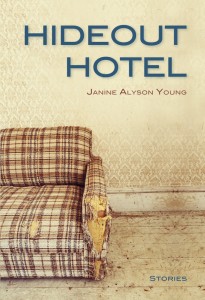 There is a lot to appreciate about Hideout Hotel, the debut short story collection by Janine Alyson Young. The first story, "Bushfire", is full of violence, drink, and danger, and begins with its main character throwing up out a window. The book's cover is appropriate–these are domestic tales, but the couch is hideous, threadbare, and sitting on the porch. There's nothing cozy about these homes, which in the case of "Bushfire" is a trailer in an isolated Australian mining community. It's where Gina lives with her pregnant sister, their parents finally leaving town, a town with nothing much except the hotel to drink, where Gina drowns her sorrows and is taken to bed by one man after another. She doesn't imagine she's happy, but supposes she could be, and looks forward to creating a cozy home with her sister, raising the baby together. But the eponymous fire in the distance suggests that Gina's dream won't come true, plus we begin to see that Gina's handle on her fate is even more tenuous that she knows. This was a strong story, a story that surprised me, whose violence was not gratuitous, and is indicative of Young's talent.
The story sets a tone which is echoed in the others. These are stories of young women who are trapped on the edge of nowhere, without agency or ambition. In "Greyhound Special", a lead singer ditches her band and flees to Whitehorse where she pitches a crappy tent and looks to the universe of a sign of what next. In "Once It Breaks", a young mother considers her loveless marriage. And then "Sung Spit Part One" and "Sung Spit Part Two", which constitute half the book and together are two fragments of a novella, in which a young woman watches her teenage cousin carouse toward self-destruction, mesmerized by the girl's charisma, her untouchability, how she refuses to be held. Meanwhile, the girl herself is pregnant, not going anyway, unsure of how to properly rebel against her hippie mother. We meet her a few years later in part two, a little older but still not over her cousin and the events that transpired the summer her cousin went away.
Of her older boyfriend, she explains, "I annoy him, I think, because I'm young and wasting my youth. I'm not excelling in anything, but more than that, I'm not fucking up either. I never get atrociously drunk or high, but I also haven't applied for law school. It seems there's no middle ground with youth. You're supposed to be making the most of it by either getting somewhere or else destroying yourself one hilarious night at a time and I can't seem to do either with much gusto."
My problem though is that she doesn't do much of anything at all, and neither do any of the women at the centre of these stories. The settings are interesting, the situations are interesting, and some really wonderful dynamics transpire–the relationship between the cousins in Sung Spit, or how when the girl visits her mother and sees her mother's effort in relating to her, the idea of this is terrifying—but I wanted these girls to stop drifting. I was more interested in secondary characters, the mothers and mother-figures who seemed more fully formed by their experiences, but whose perspectives never come into play. Maybe the point is that I am old…
Hideout Hotel is a book with promise, and it holds the seeds of a great book to come.