April 22, 2014
#MakeSomething: The Most Magnificent Book
It is always a good day when we get a package in the mail from Kids Can Press. In particular, when that package has to do with a book that we've loved as much as we continue to love Ashley Spires The Most Magnificent Thing.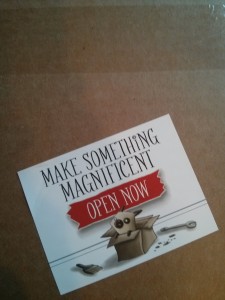 Remember that book? The book of which I wrote, " It's got everything. It's got a dog, a girl who builds things, appealing illustrations that stand out against simple line drawings of an urban street-scape. It will appeal to both sexes. It's got words, so many words, terrific verbs employed in the act of construction. It's about coming up short, making mistakes and getting angry–the acknowledgement of such experiences is incredibly profound and has echoes of Sendak."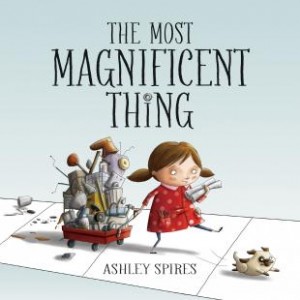 So it was so cool to get this kit in the mail full of stuff for making, including a modified version of the book for us to "hack" and include in our creation. Harriet quickly set to work making blueprints, and was determined that her magnificent thing would be a monster.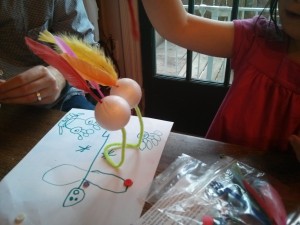 The project came together fast. Harriet's dad worked alongside her.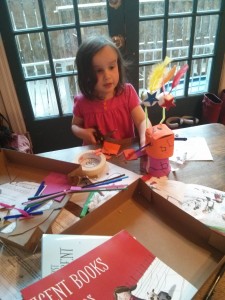 She cut, she stuck, she modified, she erred and tried again, and came up with something even better than her blueprints.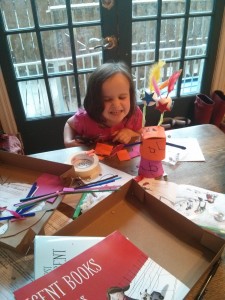 Like her mother, Harriet is blessed with not being a perfectionist, and so her final vision seemed more than satisfying. We hooked our guy up with the book, because monsters like reading just as much as anybody does.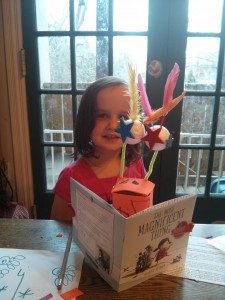 What fun fun fun, and just an example of the creativity this fantastic book will inspire. Thanks, Kids Can Press! So happy to spread the word about a book we love as much as this one.