April 13, 2014
Crossing to Safety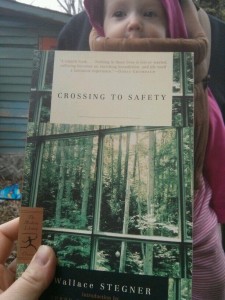 My reading life has belonged to me lately, after a very busy few months during which I was lucky enough to be reviewing one book after another. Even luckier—the books I've reviewed this spring were all really good. (My review of Miriam Toews' wonderful, heartbreaking, hilarious All My Puny Sorrows will be out in Canadian Notes & Queries in the distant future.) But now I've got nearly all my deadlines out of the way, and I'm free to read whatever I choose. Whatever I choose from the  50+ books waiting for me on my t0-be-read shelf, not to mention the books I keep finding on the curb and bringing home ('tis the season!) and the books I'm buying too (my copy of Penelope Fitzgerald's Collected Letters finally arrived last week at the Bob Miller Book Room!). I'm reading lots of new books for review here on my blog, and also older books for my interest only. If the number of books I have before me are any indication of my lifespan, I am probably going to live forever.
In spite of all this, when I read Sarah's blog post the other day about Wallace Stegner's Crossing to Safety, my immediate response was, "I've got to have this." And not just for one of these days, but for right now, this moment. I've loved Wallace Stegner's books, which were introduced to me by Julia, who has delivered me to so many wonderful things. She gave me his All the Little Live Things, which I liked much more than his Pulitzer-winning Angle of Repose, and Crossing to Safety seemed similar in approach to the former.
Sarah explains:
It's a writerly book, one that puts a writer at its centre and continually draws attention to itself as something written: "How," asks the writer-narrator Larry Morgan, "do you make a book that anyone will read out of lives as quiet as these? Where are the things that novelists seize upon and readers expect?" It's a strategy that might have failed in lesser hands. But with Wallace Stegner it feels hard-earned and true. He was 78 when Crossing to Safety came out in 1987. It was his last novel. His first novel was published in 1937. The wisdom and sensibility of Larry Morgan is hard not to conflate with Stegner himself. Aging, and often looking back on days long past, Larry is able to take the long-view of the lives of the two couples, with all their ups and downs: "If we could have forseen the future during those good days in Madison where this all began, we might not have had the nerve to venture into it." I sometimes wonder how any of us has the nerve to go on, when we know that, at any moment, we stand to lose those we love or the life we know. In fact, losing those we love and losing, at least to some extent, our youthful vigor are inevitable corollaries of a living a long life oneself.
I've been thinking about these questions a lot lately, where that nerve to live at all comes from, and the way I live always a little bit terrified of reality coming along to snuff out my illusion that it's all still basically worthwhile. (I think it is. I don't ever not want to think so. Hence the terror.)
I also enjoyed Sarah's story about how the book came into her life, got recalled to the library, how she ordered a copy online, found another in the Oxfam bookshop and had to buy that one, only  to have the first book in the postbox upon arrival back home. So now she has two, and I wanted one too, so we ventured out yesterday afternoon to see if Seekers Books had one in stock and they did! I started reading last night and less than 24 hours later, I'm more than halfway through, absolutely adoring it. So happy to be reading it, besotted with its beautiful cover, a window. How perfect. We had an absolutely terrible night's sleep last night with two coughing children, and so I was left alone to linger in bed this morning until 9:15 when I was delivered Iris for her morning nap, and there I was reading more until 11am when she woke up. I've not stayed so long in bed in years, and it was wonderful, and this book was the perfect accompaniment exactly.