April 10, 2014
The M Word Events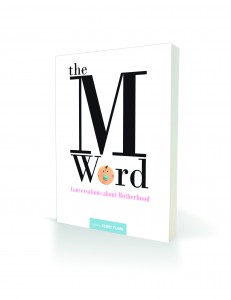 Forgive the relative silence here this week, but I am sick, Harriet has both learned to read and gone slightly insane, plus Iris just climbed an entire flight of stairs. And Playschool meeting/events in the evening 2 nights, and a trip to the dentist en famille. It's been a busy week, but it's got nothing on next week when it all starts kicking off. Which I am going to enjoy, every second of it. I am as determined of this as I am terrified of the whole scenario. Which is saying something.
On Monday April 14, The M Word is part of Indie Lit Night at the Starlight Social Club in Waterloo Ontario. Representing our book is the excellent Carrie Snyder, along with Jonathan Bennett, Tamai Kobayashi, Evan Munday, Sina Queyras, Nicholas Ruddock, Vivek Shraya, and Suzannah Showler. 7:30pm
On Tuesday April 15, we launch in Toronto at Ben McNally Books. I will be there, along with a whole bunch of Toronto contributors (and even one coming all the way from Cape Breton!). 6-8pm. There's going to be cake.
On Wednesday April 16, Iris, my mom and I are taking the train to Kingston for a launch at Novel Idea Bookstore. I'm so excited about this event, which I'll be participating in along with Susan Olding, Sarah Tsiang and Nancy Jo Cullen. 7:30pm.
On April 29, Maria Meindl and I will be taking part in the Different Drummer Books Book & Author Series in Burlington ON at the Burlington Golf and Country Club. 9:30 am.
The M Word goes west on Sunday May 3 for an event at Shelf Life Books in Calgary. Susan Olding, Fiona Tinwei Lam and Myrl Coulter will be reading, along with Judy McFarlane, author of Writing With Grace. 3pm. I won't be there, but my sister will be, along with my baby nephew!!
I will be in Winnipeg on Tuesday May 6, where I will be reading at McNally Robinson with Kerry Ryan and Ariel Gordon, and I'm so excited about this. 7pm. There are rumours of cookies.
And then on Wednesday May 7, I'm heading to Hamilton with Diana Fitzgerald Bryden, Julie Booker, Maria Meindl to read at Bryan Prince Booksellers. 7pm.
Westward again for our event in Victoria BC at Russell Books on May 8 with Fiona Tinwei Lam and Marita Dachsel.
On Thursday May 15, I'll be at Another Story Book Shop on Roncesvalles Avenue in Toronto talking about motherhood and feminism with Melinda Vandenbeld Giles, editor of new book Mothering in the Age of Neoliberalism and Jasjit Sangha, editor of new book South Asian Mothering.
And on June 19, we're doing a fun event at Parent Books in Toronto called Conversations About Mothers in Children's Books. M Word contributors Heather Birrell, Heidi Reimer, Patricia Storms, and Amy Lavender Harris will be talking about themes from the anthology and how they relate to depictions of mothers from our favourite children's books. 7pm
I'll add more events to this page as they're scheduled! And would also like to voice my gratitude to the fine bookshops across the country for hosting us. I've said it before and I'll say it again: where would we be without you?