April 2, 2014
After I'm Gone by Laura Lippman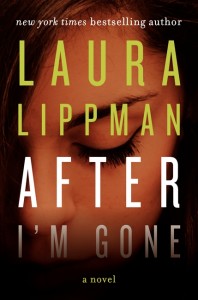 It would be so easy to be absolutely enthralled by Laura Lippman's latest novel, After I'm Gone, that you might forget to notice that it's so magnificently structured. Written in alternating chapters between the present day from the perspective of a cold case cop, and the back story from the perspective of a whole cast of characters, it tells the story of Felix Brewer, shady wheeler dealer who goes on the lam in 1976 while facing a prison sentence for fraud. He leaves behind his wife and three daughters, as well as his mistress, Julie, who complicates the story further by disappearing herself almost ten years to the day after Felix vanished, the mystery of her whereabouts solved in 2001 when her body is discovered in a Baltimore ravine. But the mystery of her murder remains wide open, picked up in 2012 by retired homicide detective Sandy Sanchez, who's trying to keep his mind off his own heartache. Who killed her and why? Where was she during all the years before her body was found? And how does all this connect to Felix Brewer?
Sandy's chapters take place over a few weeks as the pieces of the case begin to come together, the alternating chapters also in chronological order but with a larger scope, moving from 1959 (when  Felix's wife first meets him at a dance) to the present day, each one from the point of view of each of his family members. These separate points of view weave together seamlessly, each one filling in more of the background that Sandy Sanchez is after, but also providing each character her own rich back story–these chapters do not just drive the plot forward, but simultaneously add texture to the plot, each character with her own secrets unbeknownst to the other characters and not expected by the reader either. So that by the end of this book, we have this amazing many-sided shape which is the story, a story with so many pieces that fit together so perfectly that you'd think you've got the whole thing figured out, but you don't. I promise.
It's so rare to find a mystery whose solution and the journey to get to it are equally delicious.