March 30, 2014
In Love With Art by Jeet Heer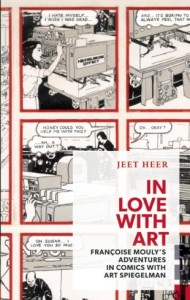 It's funny that comics have an aura of exclusivity. They're so of-the-people, pulpy, low-rent accessible. I grew up reading comics, but then these were Archie comics, which aren't real comics, and so I've lost my footing in this world already. Legendary comics store The Beguiling is around the corner from my house, but I've never been there for many of the same reasons I've never walked into Prada, just a bit further east on Bloor. But then they opened a sister shop nearby, Little Island Comics for kids, and I have a kid, so we went there, and our family's comics love has been growing ever since. Harriet and Stuart are currently reading Wonderland by Tommy Kovac and Sonny Liew over and over, I read Jane, the Fox and Me last week, Harriet is obsessed with Wonder Woman and the DC Comics I Can Read books, she adores Binky, we got our first Silly Lilly book a long time ago, and bought Jack and the Box at Little Island just the other day (after this great recommendation by Michael Barclay). Parenthood has been my gateway to the world of comics, and I'm so grateful for that.
Silly Lilly and Jack and the Box are published by TOON Books, a series of stylish, smart, well-designed comics for kids packaged neatly as hardcover books. TOON Books was founded by Francoise Mouly, who is better known (as much as Francoise Mouly is considered "known" at all) as the partner of Art Spiegelman, of Maus fame. Using interviews and archival research, Jeet Heer has written a short biography of Mouly, In Love With Art, in an attempt to bring Mouly out from her husband's shadow, though it's actually Mouly of the two whom I know best, from her work as founder and Editorial Director of TOON Books and also by her long-time position as Art Editor of The New Yorker with its iconic covers. I may not have known Francoise Mouly's name, but it turns out I've been paying attention to her work for a long time.
In Love With Art is part of Exploded Views, a new series of short books published by Coach House Books, books that in their immediacy read like extended magazine articles. Heer, with his signature mix of down to earth and erudite (and the world's best vocabulary—who knew that "shanghai" was a verb?) has created a fascinating, absorbing book that made me grateful for the mild temperatures that allowed to me to continue reading (mitten-less) even after I got off the subway and was walking down the street. It's a book that fit in my coat pocket and I read it in a day, but kept talking about it after with everyone I ran into. "Francoise Mouly. You think you don't know her, but you do. You've got to read this book."
It's a fascinating story of a woman in a man's world, of her childhood and formative years coming of age in France around 1968. She studied architecture, developing an design aesthetic that she's applied to every project she's done since, including low-grade jobs like "colourist", overriding general consensus that jobs like this don't matter. Not a comic writer herself, instead she's a comics editor–who even knew there was such a thing? And part of the reason you've never heard of her is because her greatest impact has been in helping well-known artists to create their best work. With Spiegelman, she edited the RAW comics magazine for years, work from which is reproduced in In Love With Art in full colour, alone with her memorable New Yorker covers.
I was as surprised as anyone to discover that I, a woman who grew up reading Archie's Pals and Gals, was this book's ideal reader, but then it's not so surprising after all. Women's lives, women's stories, women's art, women for whom motherhood is a kind of answer—it's been my thing all along. Consider my view exploded then. In the best way.