March 28, 2014
Saying Goodbye to Bookstores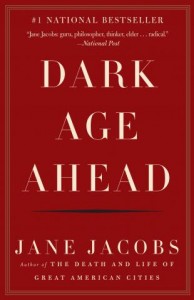 This weekend is, apparently, Annex Book City's last. I've not been in for awhile because it's just not been the same, but will pop in for a last goodbye. I continue to be heartbroken, but one stumbles on. Still very much hoping for a new bookshop landing in the neighbourhood, and in the meantime, will support our other locals–Parent Books (in their new location), Little Island Comics, and Bakka Phoenix, all close by. But yes, it's terrible. And isn't it funny how fast one becomes accustomed to "terrible," which is a point Jane Jacobs makes in Dark Age Ahead, which I read last week. and which, apparently, Book City did the launch for, as it was her local bookstore too, so there you go. So I am by no means living in a bookstore desert, but I have such sympathy for those people who are, though I fear that already so many have forgotten what they're missing.
Last weekend, I was interviewed for this article by Andrea Gordon on how Book City is one of three bookstores closing in Toronto this month, along with The World's Biggest Bookstore (which held me so in thrall as a child that I did a school project on it in grade 5. It was the most magical place I'd ever been), and The Cookbook Store, which was another favourite destination more recently, right across the road from the Toronto Reference Library. The piece is a nice look at these places which make our city special, places that are getting lost thanks to rising rents and pressure from Amazon's discounts, not to mention longterm effects of Chapters Indigo's predatory practices, back when they could afford such things (which has, of course, rendered Bloor West Village a bookstore desert, among many other examples).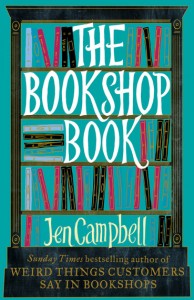 I am too much of an optimist to wholly give over to the dark age ahead though. Something good will come of all of this, and in the meantime, I am pleased that my thoughts on loving and losing Book City are going to be included in The Bookshop Book by Jen Campbell, which will be out in the UK in October. About the book: "From the oldest bookshop in the world, to the smallest you could imagine, The Bookshop Book examines the history of books, talks to authors about their favourite places, and looks at over two hundred weirdly wonderful bookshops across six continents (sadly, we've yet to build a bookshop down in the South Pole). The Bookshop Book is a love letter to bookshops all around the world." I'm very excited to be a part of it.
And for more signs of life in the indie bookshop game? Oh, do check out the blog of Parnassus Books in Nashville, which is co-owned by the remarkable Ann Patchett. So so filled with bookish goodness.