March 3, 2014
Reading when the world seems unsteady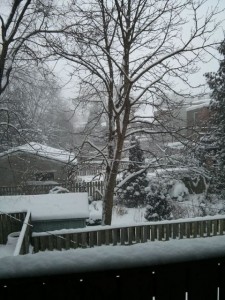 That time does fly is demonstrated by the fact that once again, I am waiting for test results on my thyroid lump (as I will be six months from now, and six months after that, and if this schedule alters, it's probably not a positive twist in the story). It is no fun waiting for test results, I am learning, no matter how routine it becomes to get needles stabbed in one's neck. It is no fun getting needles stabbed in one's neck either. But the very worst is waiting on test results when one is reading a novel that isn't very good.
I was reading that not very good novel yesterday when I wasn't waiting for test results, and while the novel wasn't good, reading it wasn't so bad. But once I'd had the tests and things got heightened, I started to feel resentful.
We turn to books for certain things–for entertainment, for wisdom, to pass the time. Sometimes the right book comes along and offers all the answers that infinite existential google searches might fail to turn up. But to need some such thing and find yourself instead in the hands of an author whose book is carelessly constructed, sloppy, superficial, thoughtless. I don't have time for that. The amount of understanding I'm willing to extend as a reader shrinks to about none.
When my world seems unsteady, I don't want to read for escape. Instead, I require literary foundations solid and deep, something sure beneath my feet.
Is it too much to want a book to capture my attention, and also save my life? Anything less is just bookish jetsam.
Anyway, if you need me, I'll be reading the new Lorrie Moore.