March 2, 2014
The Mystery Shopping Cart by Anita Lahey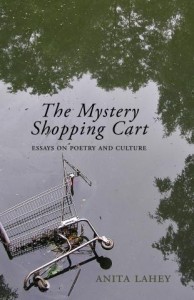 It's about once or twice a day when something happens that reminds me how much I'm going to miss Book City when it's gone (which is not too long now–stock is down to 40% off and the shelves are bare). I'm going to miss having a shop just around the corner that I could quite sure would have a copy of The Mystery Shopping Cart: Essays on Poetry and Criticism by Anita Lahey in stock. In fact, they had two. To think I took this for granted for awhile, being served as a member of the public who just happened to require The Mystery Shopping Cart at a moment's notice.
And the reason that I required the book was because I was developing this fantasy in which I published a series of books of literary essays and reviews by Canadian women critics (including myself, naturally). I find that women writers in particular tend to be a bit all over the shop in terms of oeuvre, and I think that something magical might happen when you curate their non-fiction into a book, and some kind of overarching narrative emerges, their preoccupations become apparent, the approach that was always always there, but it's just that she didn't feel the need to state it in boldface over and over again.
This fantasy came about because I kept noticing the way in which male critics tend to get their work collected into books in numbers which, compared to female critics, reflects how much more of their criticism is published in the first place. And then I discovered The Mystery Shopping Cart, the book of my dreams. To Book City I ventured then in order to hold that dream in my hand.
Last week I stated (on twitter, no less) that The Mystery Shopping Cart was a perfect antidote to February, as well as to bookstore closures and general dissatisfaction with the state of the world. Because here is a book that testifies that words, books and ideas matter. Here is a smart and generous voice that takes the reader into its fold. The book begins with friendship, Lahey's with poet Diana Brebner, and I didn't manage to get through the first piece about Brebner (and how a mysterious shopping cart had once found its way, overturned, onto Anita Lahey's lawn) before putting one of Brebner's books on hold at the library–the one with her Mary Pratt poems.
This is that kind of book, the kind that takes you places. The kind with essays about poetry that I read anyway, though I am not a poet myself, or a confident reader of them. These are essays about poets I've never heard of, poets that I've never read, and I read these essays anyway. They presume that I should care about these things, invite me to do so, and I do. I am welcomed into the conversation, rather than alienated from it (by jargon, theory, grudges and biases I'm not privy to). Last week, for the first time I reviewed a poetry collection and felt confident  about what I'd written, certainly not least of all because I was writing under Lahey's influence. From The Mystery Shopping Cart, I'm learning that poetry might be mine to think about and write about, that I don't necessarily need to learn a whole other  language in order to do so, and just because poetry sometimes leaves me puzzled doesn't mean I'm reading wrong, and that puzzlement (and a willingness to be made so vulnerable) is sometimes the very point.
Much of this book was familiar to me from Lahey's associations with The New Quarterly. It was a pleasure to once again encounter her interview with Sharon McCartney and Kerry Ryan about poetry and boxing/wrestling/kickboxing, as well as her conversation with Kim Jernigan and Alice Munro. I'd also read some of her reflections from Arc Poetry Magazine in the wonderful Quarc Issue (which I adored and wrote about in 2011).
I enjoyed her essays about poets familiar to me (PK Page and Gwendolyn MacEwen, and how she takes issue with the former for inspiring a generation of Canadian poets to write terrible glosssas, and with the rest of us with conflating the self and work of the latter) and others–Dorothy Roberts, exiled Canadian and niece of Charles G.D.–who knew? I also appreciated her conversation with poets Stephanie Bolster and John Barton about the lure of ekphrasis. And how Lahey's critic work is complemented by the personal essay included at the end.
The whole book was so good that it makes me fantasize about my female critics series more than ever. Sometimes I fear that in spending so much time lamenting the voices that are missing that we're neglecting to pay attention to the few that are there. Kudos for Palimpsest Press for making this reader pay attention.