February 13, 2014
Books for Family Day
Family Day: the statutory holiday that makes February almost endurable. Though as the holiday is still new and as a concept is sort of vague (beyond the "stay home from work and school" part), we're all still defining what this day is all about. So how about: this is a day for settling your kids around you on the chesterfield as you read these excellent books that celebrate family ties.
The families in some of these picture books will be mirrors of your own, while others will provide a window onto a different kind of family life, which is just as important to encounter.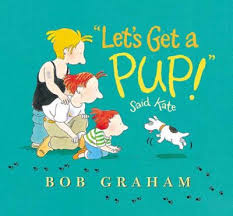 Let's Get a Pup, Said Kate by Bob Graham: Bob Graham's books are all celebrations of families, families of all different colours, shapes, and sizes, but I highlight this one for its story of Kate, an only child whose place in her family has nothing of the "only" about it. Graham's detailed illustrations (right down to clutter in the corners), Kate's parents who are individual characters in their own right, and the never-in-doubt love between the members of this threesome make clear the richness of their family life.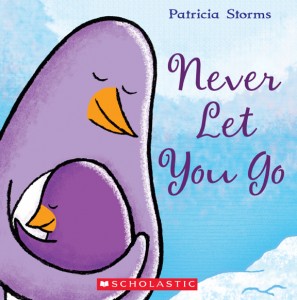 Never Let You Go by Patricia Storms: I chose this book already as one of my top books of 2013, but come back to it again because of its portrayal of family bonds. It's never clear whether the Big Penguin is Mother or Father (or perhaps neither?), or whether there are any more members of this family than just these two, but it doesn't matter. In its simplicity, this book shows that the definition of "family" is just as elastic as love is.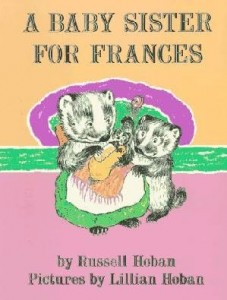 A Baby Sister for Frances by Russell Hoban: Being a member of a family is often not fun, as Russell Hoban is smart enough to make clear in this true-to-life book about a new sibling. "Well, things aren't very good around here anymore," reports Frances the Badger, since the birth of Baby Gloria, whose needs have subsumed Frances' own in the family hierarchy. The story has a happy ending, but not a sappy one, and I think plenty of older siblings will feel good about a book that reflects the complex experience of siblinghood, and validates their feelings.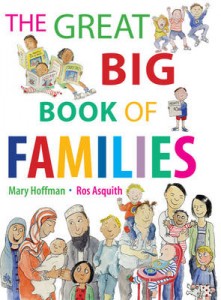 The Great Big Book of Families by Mary Hoffman and Ros Asquith: This book is a terrific introduction to the diversity of family life in terms of members, traditions, socioeconomic status and more. Facts of life such as homelessness and unhappy families are acknowledged for a nice dose of reality, complemented by funny, detailed illustrations, which bring levity and tell stories of their own.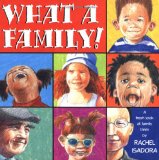 What a Family! By Rachel Isadora: Of the many exceptional things about this book, one is that it explains on its inside cover just what is the difference between first and second cousins, and cousins once removed—how useful! Isadora's book provides the narrative for a complicated family tree, and shows what brothers, sisters and cousins across generations (and ethnic backgrounds) have in common, and what is different between them, celebrating both.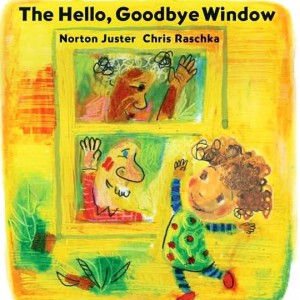 The Hello Goodbye Window by Norton Juster and Chris Raschka: This is the first picture book by Juster, author of The Phantom Tollbooth, and it won a Caldecott Award in 2006 for Chris Raschka's art, which mimics a child's drawing style. It's a lovely ode to extended family, and to the rituals that emerge from that precious part of life: visits to a grandparent's house.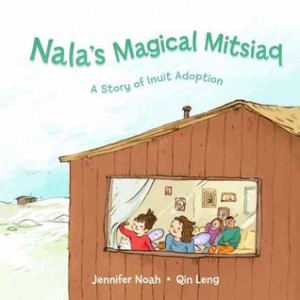 Nala's Magical Mitsiaq by Jennifer Noah and Qin Leng:
Recently published by Inhabit Media, an Inuit-run press out of Nunavut, this story puts open adoption in the context of Inuit tradition, where adoption between family members is common. Two little girls learn from their mother's stories that indeed they are sisters, though they both came to the family in different ways.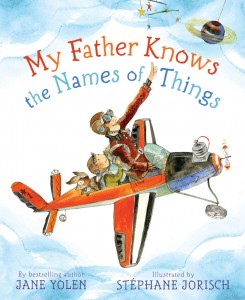 My Father Knows the Names of Things by Jane Yolen and Stephanie Jorisch: Fathers still remain conspicuously absent from so many picture books, and so My Father Knows the Names of Things makes for a nice change. Written as a memorial to her late husband, Yolen celebrates a father figure not for his ability to conform to prescribed gender roles, but for his wisdom, knowledge, and importance as a guiding force in his child's life.
So Much! By Trish Cooke and Helen Oxenbury: I never met a Helen Oxenbury book I didn't love, but this one by Trish Cooke is particularly charming, and a winner of many prizes when it was published in 1998. Mama and Baby are home alone one day, not doing anything in particular, when the doorbell rings, and rings, grandparents, aunts, uncles and cousins arriving to hug that baby, to love that baby. Cooke's prose is almost a song, and a joy to read, and readers will be particularly excited by the story's surprise at the end.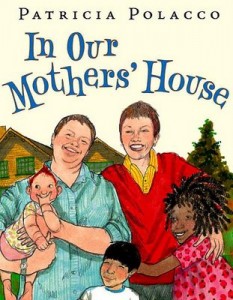 In Our Mothers' House by Patricia Polacco: In our library, there are a variety of books about families with two mothers, and many of these live on a shelf called, "Issues," along with books about dying grandparents and another called Julio's Gluten-Free Birthday Party. What these books mostly have in common is not their family issues, but that they tend to be really terrible. Which is why Polacco's book is allowed to live on the real shelf with the rest of the books, I think, because no matter how many moms it has, it's a work of literature proper.
She celebrates a multi-cultural family with two mothers and three adopted children, showing the richness of their life together, and also hints at the discrimination they encounter along the way. But really, what I love most about this book is that it sets an example of the kind of mother I want to be, the kind of family I want to have. A warning though: my husband is incapable to getting through the book entire without starting to cry.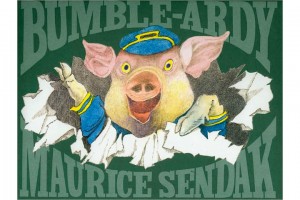 Bumble Ardy by Maurice Sendak: I like the realities acknowledged in this, Maurice Sendak's final picture book. That one's biological parents can be a bit rubbish, for one, (so that when Bumble Ardy's piggy parents gain weight and get ate, we all acknowledge that it's not so much of a loss), and also that a caregiver (his Aunt Adeline) can become ferociously angry with you when you misbehave, and still love you all the same. Though this isn't a feel-good story, of course—this is Sendak, after all. The family ties in this book are curious and unsettling, which contributes to the story's strange appeal.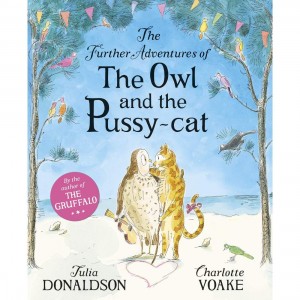 Further Adventures of the Owl and Pussy Cat by Julia Donaldson and Charlotte Voake: Not just anyone should be allowed to write a sequel to Edward Lear's "The Owl and the Pussycat", which we love at our house through its edition by Kids Can Press's Vision in Poetry Series, but I'm pleased that Julia Donaldson (famed for her Gruffalo and rhyming verse) was permitted to do so.
It's the story of what happened to this mismatched pair after their honeymoon (where hand in hand by the edge of the sand, they danced by the light of the moon), when the wedding ring goes missing and they must embark to find it. The story is fun, and shows that family can emerge between the most unlikely candidates, and children need not be part of the equation at all.