December 5, 2013
New Kids' Books Lately
Never Let You Go by Patricia Storms: Patricia is a friend of mine, and I love her latest book, the story of a parent's unconditional love. This Mommy or Daddy Penguin is never going to let the baby go… except, well, let's not be ridiculous about the whole thing. Baby Penguin will be let go to go to the bathroom, of course (and she actually mentions bathroom=hilarity). And Baby Penguin will be let go for lunch, to play, to chase the stars (and here there is a gorgeous spread of Aurora Australis). But other that that, of course, "I will never let you go," says Big Penguin, portraying the elasticity and infinitude of great parental love.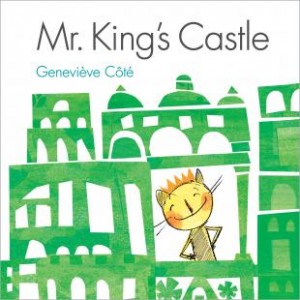 Mr. King's Castle by Genevieve Cote: I've got a bias for this book as well, because it's got a pink owl in it who was named for my daughter. It's the follow-up to Cote's Mr King's Things, and similarly presents an environmental theme. That crazy cat Mr. King starts building a castle out of the pieces of the world around him, and he wants a big castle. So he builds and builds and builds and the castle is amazing, but he's oblivious to the fact that he has robbed his animal friends of their habitats. When he realizes, he and his friends go to make it right, and he learns something about environmental stewardship in the process.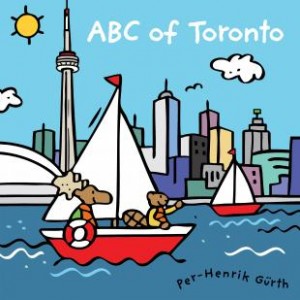 ABC of Toronto by Per-Henrik Gurth: I wasn't sure how I would feel about this alphabet book, as Allan Moak's A Big City ABC is the Toronto alphabet in my mind. But it turns out that Toronto is big enough for two ABCs. I love "D is for Dinosaur," which shows my favourite dino skeleton from the ROM; "K is for Kensington Market;" and "P is for Picnic at Trinity Bellwoods Park." Plus Union Station, Streetcars and "W is for Ward's Island." I love this book's perfect specificity.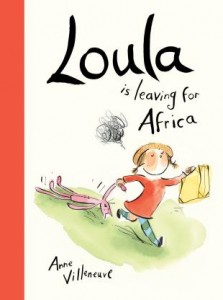 Loula is Leaving for Africa by Anne Villeneuve: This brand new book is a little old-fashioned, recalling Eloise a bit (or perhaps that's just the chauffeur). I like this book's eccentric twists–Loula's mother is an opera singer, her father a designer of moustaches (?). Neither is much concerned that Loula's three brothers are making her crazy, and so she runs away from home, on a voyage of the imagination to "Africa", in the company of her family's chauffeur Gilbert. The story shows that one needn't travel far to really get away, and that the most wonderful terrain to explore is in the mind.
Shhh! Don't Wake the Royal Baby! by Martha Mumford and Ada Grey: I picked up this one while we were in England, because Iris and the Royal Baby are contemporaries and it's as good a souvenir as a tea-towel. It's a funny story with smart illustrations about how the Royal Baby just can't be put to sleep. My favourite part is when the Baby is almost down, and then Prince Phillip prances in kicking his heels and dancing, waking baby up again. I also like when Pippa and Prince Harry raise a ruckus planning a lavish party in Baby's honour, with Pippa yelling, "More blinis! We need more blinis!" Of course, specific Royals (and their sister) are not named exactly, called "The Duchess" and "The Duke" (and oddly, Phillip gets to be The King, and Charles and Camilla don't even factor, but let's not complicate things).