December 3, 2013
Hellgoing by Lynn Coady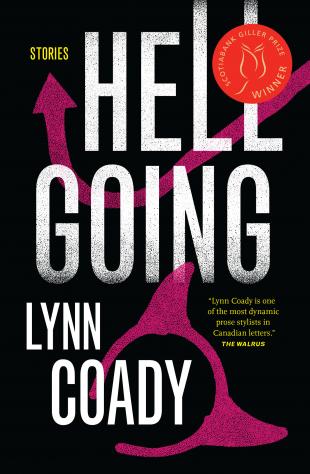 During the final weeks of my pregnancy last May, I sat bouncing on an exercise ball and had the great privilege of reviewing Lynn Coady's short story collection Hellgoing for Canadian Notes and Queries. Now, upon first read, I was a bit concerned, because the book was difficult, perplexing, and I wasn't sure how I'd be able to write a review of a book whose parts I'd found so difficult to understand. But the solution to this problem is always to read the book again, so I did, and found the experience of figuring it all out so utterly engaging that it led to this quite effusive blog post.
And then Hellgoing went on to win the Giller Prize. Who knew? I certainly didn't as I bounced on my ball. And how interesting to contemplate a book in the before and after glow of such enormous success. How interesting that such a complex, oddly shaped, thoroughly worthy book should win this prize. Such a triumph. I'm only a bit sorry though that my review might cease to matter so much so long after the fact, but alas.
The magazine will be out on news stands… soon? In the meantime, here is a taster with the opening of my review…
Because for a lot of successful novelists, short story collections happen when they're making other plans, it is worth noting that Lynn Coady has been busy lately. Her fourth novel The Antagonist was shortlisted for the 2011 Scotiabank Giller Prize; she's co-founded the award-winning magazine Eighteen Bridges; and more than a few of the stories in her new collection Hellgoing have been lauded already after initial publication in Canadian magazines.

So a reader could be forgiven for wondering if Hellgoing, Coady's first short story collection since 2000's Play the Monster Blind, is a literary grab-bag created to follow fast on the success of The Antagonist. And certainly upon first read, the stories themselves appear to be broad in terms of subject matter and approach—no more can Coady be categorized as a regional writer with a focus on her native Cape Breton; her characters range from a child, to a host of young urban professionals, to an aging nun; stories are told in first and third person, some traditionally structured and others with an edge verging on the experimental. These are stories that, as the book's copy tells us, "capture what it is to be human at this particular moment in our history," an enormous umbrella, and so the reader might wonder with how much deliberateness this book was curated.

But then that wondering reader would be advised to read deeper. First, because Hellgoing is published under House of Anansi's new Astoria Imprint, devoted to short stories, suggesting a book put together with an eye for craft instead of umbrellas. Second, because Coady has emerged as one of Canada's most inspired literary voices since Strange Heaven, her 1998 debut, with each subsequent book pushing her talent in new and interesting directions. Even in the most ragtag Coady grab-bag, there is likely to be method at work.