December 1, 2013
Wood by Jennica Harper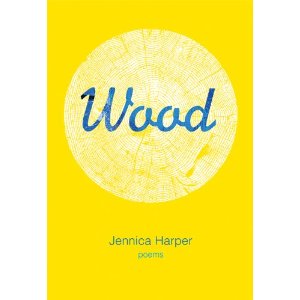 Jennica Harper is the poet whose books I stay up reading late into the night. She has uncanny ability to zero in on my fascinations, articulate questions I've vaguely wondered about, to use the very things located in the world around me (songs, cultural lore, television characters, celebrity references) and spin their own mythology. In a recent conversation, she asked, "Is there such thing as a "gateway poet"? That's what I'd like to be." And she has certainly succeeded at this, most recently with her latest collection, the beautiful, quietly powerful Wood.
Wood is meticulously packaged, the trunk-ring design from the cover repeated on the endpapers.The package is important, first because it's beautiful, but also because Wood is a project of parts rather than strictly a whole and how these parts fit together is a huge part of the book's appeal.
The first section is "Realboys: Poems for, and from, Pinocchio". Like much of Wood, this is a story about progeny and disconnect. Pinocchio who is not quite a son, whose burgeoning sexuality extends the "wood" metaphor further (ha ha), who takes on Gepetto's disappointment that he won't grow to be a man–Gepetto, the man who made him! Who longs for the accoutrements of manhood without really understanding what they are. The only thing that isn't rigid here is language: "I make things hard."
"Liner Notes" is section 2, a long-poem from the perspective of a young woman 10 months into her first serious romance, thinking over the matters of her life as she cares for a disabled child and listens to "Crimson and Clover" by Tommy James and the Shondells. "Tommy James and the Shondells went on vacation in 1969/ and never got back together…" The connections between the band, the song, the girl and the child in her care. She is on the cusp of adulthood, and the child stands for an unspoken possibility for the rest of her life, a possible narrative thread. She is playing house, experimenting with roles, hypnotized by the melody "over and over", by her own power, by the possibilities still before her. The child is a window onto a way of life that nobody ever imagines, evidence that life takes on its own trajectory. And what does the child know about being a realgirl, about being being human? What does she know about being beyond human?
"There are various interpretations of the meaning of "Crimson and Clover"/…Many continue to believe it's simply about being high, floating, synesthesia/letting go."
"Papa Hotel" is imaginings on the father figure as iconic Hollywood movie stars, continuing the father-child (dis)connection theme that began with Pinocchio. Like the previous section, it's an exercise in the hypothetical (wood/would!). Or the poet is imagining a context for inexplicable behaviour instead? "My Father, As Jack Nicholson": "A man who knows a pretty girl when he sees one, and he's always seeing/ one. He reads waitresses' tags, calls them their names…"
Next is "The Box" (wooden?), poems about Harry Houdini and his wife, about their marriage–"They had no children". The poet imagines herself into the experience of Wilhelmina Beatrice Rahner: "Now I'm the wife of the Handcuff King." Poems about the tricks of their life together, and about their "Dream Children". And then in "Wife": Her imagined children are your imagined children. For all you know/ she was content, childless, her small womb unstretched, a balloon/never blown. Her belly skin taut 'til the end. You want her to want/ those children. Then she'd be missing something, like you…"
"Would" comes next, poems from the point of view of "you" in the preceding section, with a few variations. Once again, we're delving into the hypothetical, including a poem about Lizzie Borden's parents supposing that they, like the Houdinis, had had no children. The last line of a poem about the impossibility of real-estate is "Once more, knock wood for the happy ending." A poem about miscarriage, another about the prospect of childlessness (and with these, we see a connection between this longing and Pinocchio's), and then "Ring in the Grain" (see cover image, of course) about birth from the point of view of a witness, a record of the event addressed to the child front one cognizant enough to articulate the profoundness of the moment, note the details of the blur.
And then finally, "Roots: The Sally Draper Poems," which you may have already read because they were published online last winter and then went viral and were quoted on Slate, which is pretty amazing. The poems are clever in their conceit, but their power goes beyond cleverness or pop-culture connections. This is Sally Draper specifically, buying a present for her specific father, for example. I loved the line in "Sally Draper: Upwardly Mobile": At home, my mother had it made and brought to her by the help. Something/ I think about when I pour." "Sally Draper Contemplates the Interstellar Mission" reaches back to Harper's first book, The Octopus and Other Poems, while this whole sequence engages the same intimate knowledge of the teenage mind as her second book, What It Feels Like For a Girl. More hypothetical exercises, disconnected dads, an abortion, red lipstick. Last night of the book: "Would that be so bad?"
Wood appears to have emerged from several different projects whose connections were secondary, and yet how these connections function–how these poems speak to one another, echo one another, underline and overwrite–is the book's most compelling quality. It's a kind of puzzle to discern how these pieces fit together, and each reread will unearth a new layer of understanding (or perhaps another ring in the grain?). Which is good reason then to stay up reading late into the night.