November 16, 2013
The Goldfinch by Donna Tartt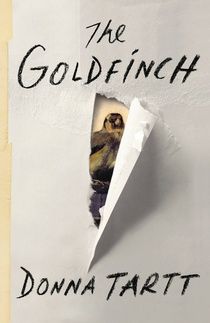 For nearly two weeks, I was reading The Goldfinch, carting it everywhere I went, having to pull out a bigger purse in order to accommodate its heft at 771 pages, my hand cramping as I read it while breastfeeding. I ripped the dust jacket when I tried to tear off a sticker, and then took the dust jacket off altogether when it started getting tatty from the travel. After that, I put the book down on the table on something green, and then the cover started to disintegrate when I wiped the stain off with a damp cloth. I don't usually treat my books so poorly, but The Goldfinch is so large and solid, a piece of furniture nearly. It has presence, is lived with, is experienced. And it is interesting to think about my wear-and-tear on the book when I consider how much of the book is about what time does to physical objects. The Goldfinch is about its thingness just as much as it is about its text.
Part of this is because The Goldfinch is an event, a new Donna Tartt novel being a once-in-a-decade experience. I bought it the day it came out and for once got to be reading what everyone else was reading, which was fun as we marked our progress on Twitter. The book has been receiving mixed reviews, but those which are positive are ecstatic, and everybody on my Twitter feed seemed to be enjoying it as much as I was.
In some ways, my destruction of The Goldfinch is a tragedy, because the book itself is exquisitely designed, with thin pages and a subtly beautiful cover, though the cover seems to anticipate my treatment of it–food stains aside, the wear seems like part of the design. And on the flyleaf is a rendering of "The Goldfinch" by Carel Fabritus, a 17th century Dutch painter. It's this painting which the book revolves around, this story of Theodore Decker whose own live turns on an explosion at the Metropolitan Museum of Art which killed and his mother and many others when he is thirteen years old.
The novel is a curious mix of old and new, strangely so at times. Though perhaps it's just me who is surprised when a novel so steeped in longing and nostalgia refers back to a time in which email and emojis were a thing. What a thing to consider–how the present becomes the past, and how the past devours the future so that we look back and it's there. Theo is writing his story from Amsterdam a decade and a half later, where something is desperately wrong and we're not quite sure what, and then we forget about the present day altogether as Theo takes us back to the museum, and the explosion: "when I lost [my mother] I lost sight of any landmark that might have led me to someplace happier, to some more populated or congenial life."
Instead, he is traumatized by the incident, and left alone, by default falling into the care of a friend's wealthy family. Compounding his trauma is fear of consequences to his actions directly following the explosion: listening to the curious instructions of a dying man, Theo removes "The Goldfinch" painting from the disaster scene, takes it with him, keeps it hidden. He tells this secret to no one, but lives in fear of its discovery. He tells us that he couldn't tell anyone what he'd done for fear of repercussions–his whole life is unstable, he's terrified of being thrown into foster care, he imagines being imprisoned for theft, and all this seems illogical because he's so young and because of what happened. Surely her would have been forgiven? But I wonder now if really Theo didn't tell because he knew that if he did, it would be taken from him.
The unreliability of Theo as a narrator, apparent or otherwise, as one of the book's most fascinating features. He is a compelling storyteller, his story utterly gripping, and yet I was quite far into the book before I remembered that Theo had been at the museum with his mother only because he'd been suspended from school after some wrong-doing. What had he done, I wondered? I went back to check, and then realized that Theo claimed that he doesn't even know, that it may have been fuss over a cigarette. He brushes past this. Situating himself as the hero of his story, or at least its victim, but it is remarked that Theo knows what to say and do to impress his friends' parents, that perhaps Theo is not entirely genuine.
But these thoughts onto turn up here and there. Mostly we're caught up in the twists and turns of his life, how his estranged father arrives back on the scene and whisks Theo away to live in Las Vegas where he's making a living as a shady dealer. Here, Theo befriends the inimitable Boris, similarly lost, neglected, and prone to trouble. The two friends get up to trouble of their own, with drugs and petty theft, but Boris provides Theo with the first stable force he's had in his life since he lost his mother.
The plot turns on coincidence, tragedy, collision and fireworks. There's nothing subtle about this structure, though this is a book that is very aware of itself–Theo remarks upon the power of misdirection, the force of coincidence and chance. He ends up back in New York living with Hobie, a friend connected with the dying man he'd encountered in the museum. The friend deals in antiques, repair and reconstruction, and Theo begins working for him, making a racket selling forged pieces. He's still hiding his copy of The Goldfinch, hiding this secret as desperately as he hides the painting itself.
Meanwhile (and this is a novel with a whole lot of meanwhile), he's long been in love with a red-haired girl who'd been with the dying man and shares his experience of the tragedy, he is very addicted to drugs, he continues the orbit the world of his wealthy childhood friend. That friend's mother has turned into a Miss Havisham figure after her own tragedy, the red-haired girl is called Pippa, and Hobie is a kind of Joe Gargery. The only explicit Dickens reference here is to Oliver Twist, however, the Artful Dodger in particular, in relation to Boris, though Tartt is subtly trickery here, and I think we're meant to wonder if Theo himself is just how artfully dodgy in his own right.
I really liked Zsuzsi Gartner's critical review of this novel from a few weeks back, because engaging with it even if only to disagree made me think deeper about The Goldfinch. She is also terrifically right about that Velveteen Rabbit moment, but I think Tartt is far too capable and tricky a novelist for us to write these off as shortcomings. The substance of the book is as such that its shortcomings seem inherent to its very fabric, and one can read into them to discover the novel's deeper meaning. I am not sure that Tartt intended to write a realist novel, as Gartner asserts. Tartt, in reference to art, considers paintings which appear realist from afar, but upon closer look are constructed of dots and brush strokes–but then what isn't? (It's also worth noting that novels which insist on their novelness are the kind that I love best.)
It occurred to me that this novel so steeped in its thingness and in things was terribly complementary to Pinterest, so I created a pinterest board for The Goldfinch. Definitely a stupid way to waste a previous hour of Baby' s nap on Thursday afternoon, but it turned out not so much. It was fun to go through the book again in search of things to pin and to include accompanying text, and an excellent way to further engage with the text–it turns out that 771 pages just weren't enough for me.