November 16, 2013
Children of Air India by Renee Sarojini Sakiklar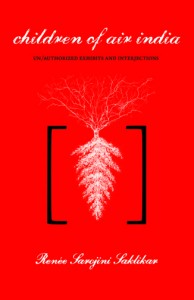 On June 23 1985, Air India Flight 182 was blown up by a bomb, exploding over the Atlantic Ocean in Irish airspace. 329 people were killed, 268 of them Canadians, making this the largest mass-murder in Canadian history. And 82 of the dead were children under the age of 13.
In Children of Air India: Un/Authorized Exhibits and Interjections, Renee Sarojini Saklikar injects life and story into an event whose devastation has been dulled by time and newspaper headlines. An event that should have become part of the national consciousness, but never did, Canadians–because of racism, xenophobia, and general ignorance–choosing to regard it as another country's tragedy, the product of another's country's troubles.
The collection is a combination of found object piece, memoir and imaginative flight. Saklikar's sources include official documents and reports from the Air India Inquiry, books on the subject, interviews, and her own experience as one whose life was touched by the tragedy–her aunt and uncle her among those killed on Flight 182, flying home to India from Canada, having changed their travel plans in order to get back to their son.
In the book, Saklikar takes on the persona, N, to elegize the events of June 23 1985, and the individuals who were lost–in particular those 82 children. These poems are harrowing to read, unimaginable facts from coroners' reports of the trauma suffered by bodies of the dead, and also in the lives she imagines as lived by these people who in death were reduced to numbers:
We are mother-father-daughter-daughter
three of us India-born, one of us Canada-made,
each grain of each minute, cascading days
the 1960s rush into the 1970s rush into a new decade
1980—
no signs come to us
that we might one day end, no portents accumulate
to brush against our skin…
(from "Exhibit (1985): the unknown family")
In addition to these biographies, Saklikar considers N's own grief, her family's response to the tragedy, and also the circumstances behind the RCMP's famously bungled work on the case, both before and after the incident. Further, she evokes the idea and ideal of Canada, showing how each is tarnished by Air India Flight 182, and sets Air India alongside other shameful components of our national identity, including colonialism and inaction surrounding missing and murdered women.
This poetry collection is beautiful, devastating, difficult and important. Difficult in terms of subject matter, but yet the narrative was so compelling, N herself leading the reader through so many lives and stories, plot and intrigue. Throughout, I needed to take short pauses because it all was a little too much, but then I'd pick the book right up again, the poetry accessible and fascinating, rich with history and voices.
Read Marsha Lederman's piece on the book in the Globe and Mail.