November 10, 2013
Someone is always crying somewhere. Usually here.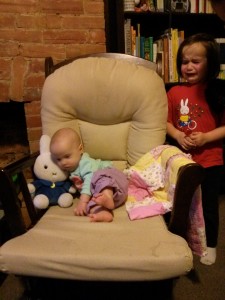 Everything has been a bit heightened around here lately, busy and outside of ordinary. Stuart was working at a conference at the beginning of last week, and so was away a lot. There has been a flurry of activity to have my book copy-edited by the end of this week (which is very exciting!). I was preparing for the Wild Writers Festival in Waterloo on Saturday, and then we found out on Friday night that my poor dad was going to need emergency surgery. My mom drove Iris and I to Waterloo on Saturday morning and left without enough time, which meant that we arrived just as my event was beginning, GPS dropping us off a block away from where we should have been. I'd been breastfeeding in the car as we zipped down the highway, leaning over the carseat, presenting a curious sight to passing drivers, I am sure. The car stopped and I jumped out without even saying goodbye, dashing across an intersection and with no time to even worry about how my mom was going to contend with Iris, who did indeed scream for the entire 80 minutes I was presenting. Apparently, everybody was quite concerned, not knowing that Iris's end-of-the-world scream is pretty standard for her. She has taken to letting it rip whenever anybody who isn't me is holding her. After 7pm, this population includes her father, which is a little bit annoying, and we're hoping it's just a phase. I know it's just a phase. But still. A bit rage-inducing.
Anyway, my Wild Writers event went really well, but between worrying about my dad and Bad Iris, I wasn't really there. (Read Carrie Snyder's blog, because she was!) We didn't stay too long after lunch, and drove back to the city without incident. We were happy to learn that my dad was out of surgery and stable, and while his recovery will be long and difficult, I am glad he's going to be okay. We'll be going to see him next weekend, in the midst of (inevitably) last-minute preparations for our trip to England. Yes, Bad Iris on a transatlantic flight. Gulp. Luckily, there will be Grandparents at our destination to receive her. And probably hand her back when she starts screaming…
So yes, there has pretty much always been someone around here having a tantrum lately. I am pleased that this someone has not always been me. While Iris sleeps on me, or doesn't sleep on me, rather, I have been reading Donna Tartt's The Goldfinch, a big fat American-sized book which I'm 500 pages into and not tired of yet. Not a perfect book–I agree with all of Zsuzsi Gartner's criticisms in her review. And yet, it's working for me. I enjoyed Jared Bland's examination of its language in yesterday's paper.
Also in yesterday's paper: a story about Harriet's play school and its role as part of Toronto's hippie past and the legacy of Rochdale College. And do read "The Wild Thing With People Feet Was My Favourite," which is an amazing story of the power of picture books and how they shape and reflect our lives. Plus, a Behind the Poem feature from Melanie Dennis Unrau's Happiness Theads, in which the poet unpacks the strange abbreviations of online mothering forums. And an interview (with recipes for cookies and scones!) by the creators of Alice Eats: A Wonderland Cookbook.