November 3, 2013
The Love Monster by Missy Marston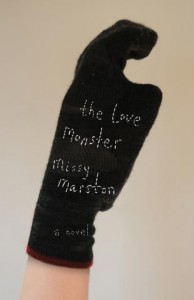 Her name is Margaret Atwood. Margaret H. Atwood, no relation. She's the protagonist of Missy Marston's novel The Love Monster, which recently won the Ottawa Book Award. And her name is Margaret Atwood entirely by accident–her own mother, Rose, had never heard of the literary icon when Margaret H. was christened. There is no meaning to the connection, which is barely even a connection. In this, I suppose, Marston is casting light upon the shadow in which Canadian authors pen their books, putting the name out there because readers are thinking it anyway, or a name that's something like it. Here is an iconoclast then, this Margaret Atwood, who's just been left by a cheating husband, has psoriasis, and works in a dreadful office she calls The Button Factory.
And there are aliens. Oh, if anything could be more off-putting, I  don't know. If I'd known there were aliens, I don't know if I could have picked this novel up, but I am so glad I did pick it up because it delighted me. The aliens (who, like the protagonist's name) are also not the point, but they are there to add a little magic to a story which otherwise might be altogether too near to reality, too bleak to bear.
"This realization–that every single part of her, no matter what course of action she takes, will get uglier over time, that the process is inevitable and unstoppable–has been crushing." I didn't underline this part, because I was too embarrassed to and because I didn't have to, because I am thirty-four years old and have just had a second baby, and therefore that line is seared on my soul. It sounds vain, I know, but it's a culmination of things, things that have weighed on poor Margaret H. Atwood who is so memorably bitchy, grumpy, uninterested in making you like her, or anyone. It's not just about looks, but about how her her life gets lost, and she is adrift in a sea of nothingness (and this part was not seared on my soul, but oh, I can relate about pants too tight). Here we have a story in a setting along the lines of The Office, cringe-worthy encounters, meaningless production, an absence of colour.
We come along with Margaret on her trip to rock-bottom, though the omniscient narrator also embraces Margaret's mother, her co-workers, even the evil ex, the alien, and invests them with a powerful sympathy, an investigation of the kernel of sadness which lives within us all. The lines, the straight-talk, the music that Margaret plugs into her ears, the disasters–this Canadian book is hilarious, and will never, ever win the Leacock Prize (which is some kind of endorsement). It's funny, and quirky, but not cute, and it's terribly profound. Really amazing writing.
Lines like, "Motherhood, the motherfucker above all others: the feeling of always being the lifeguard on duty, of never having a moment's peace. Counting and counting and counting the precious, vexing little chicks to make sure all are accounted for. Rose believes that, except for that single unspoiled year, sandwiched between her father's house and her daughter's birth, that one year lone with her lovely husband, she cannot remember ever feeling at ease. She is always on stand-by. She wants to turn it off, but she can't. Duty calls. She can feel the motherfucking cape behind her as she rises from the table. Stand tall, mother. Fly!"
And
"But Lou Reed knows everything. If you just listen, it is all there. / He knows that the world can be terrible and that humans struggle to find their way. That's why they need kicks./ He knows that some kicks can kill you (like heroine[sic*] and brute violence) and others (like love and rock and roll) can save your life. / He knows that sometimes only the tuba can adequately express rock and roll feelings. And he knows how important it is to–how exactly does he out it? Shake your buns."
*I think "heroine" is a typo, but I'm not sure, and this novel is clever enough, and meta enough that I'd give it the benefit of the doubt. Like the protagonist's name and the aliens, I can read a whole lot into this. The Love Monster is a novel as heavy on substance as it is on humour, which is rare. I seriously could write a half-decent undergraduate essay on that typo. And I loved reading about Lou Reed, just the day after his death, just another way this novel was like a message from the universe (which all books have kind of read like ever since I finished reading Rebecca Solnit's The Faraway Nearby).
I liked this novel well enough, thought it was cute, funny, but then eventually, this novel suffused with bleakness begins to bubble over with light and joy and it all comes to mean so much more. SPOILERS!, I guess, but I'm not sure I could convince you to read it otherwise, what with the aliens and the psoriasis. The Love Monster celebrates life and the love, the ties that bind us to the earth and to each other. It is surprising and devourable, challenging tenets of CanLit but affirming the goodness of the world, and I love that. What a revelation–that a wonderful novel can also make you laugh, even make you happy.