October 24, 2013
Lois Lowry!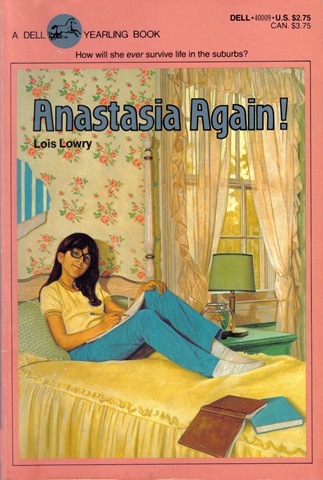 Seven years ago, I sent Lois Lowry a fan-email to tell her how much her Anastasia Krupnik books had meant to be growing up, and she sent a kind and gracious reply. Three days ago, apropos of a conversation with Helen Spitzer on Twitter, I changed my profile picture to the cover of Anastasia Again! And then today, I discovered that Lois Lowry, Anastasia's creator, was giving a lecture at the Osborne Collection of Early Children's Books, mere blocks from my house. Today was also important, because it was Iris's first time rolling off the couch, which was slightly traumatic, but not so much because she is my second baby. Also because she is my second baby: I can go out whenever I want, even if it's for the third time in seven days, whereas with Harriet, I didn't leave the house in the evening for nine months. So I went to the Lois Lowry lecture tonight.
(Yes, I am slightly wired. I don't sleep much anyway, and then Jennica Harper's new book turns up in the post, and it's so good that I'm up late late on Monday reading it. And then yesterday, I discover that Margaret Drabble has a new novel, which is so fantastic that all I want to do is read, and that then today I get to be in the same room as Lois Lowry? Where do weeks like this one come from? [And yes, Iris is fine. Really. No injuries sustained. She actually landed on her bum, which was kind of weird because I looked down and she was just sitting on the floor, and I thought, "How did you get there?"])
Helen phoned me tonight to confirm I was going, and thought she'd stop by a bookstore en-route to pick up some Lowry and cram. What a fantastic idea, I thought, and calculated the unlikelihood of me finishing dinner, doing story-time, feeding Iris, and going to Book City in a twenty-five minute period, leaving enough time to get to the lecture. And then I started remembering Anastasia, and realized I'd never forgotten anything about her ever. I didn't need to read up. And that she was incredibly important to who I wanted to be when I was young, and to who I am today.
Her parents, Myron and Kathryn Krupnik, and Myron's old flame Annie, who turned out to be terrible. Anastasia who was in love with Washburn Cummings, who was black and always bouncing a basketball. How her father, a Harvard Professor, criticized her for using the word, "Weird," which I still never write, because I hear Myron Krupnik saying, "Anastasia, you live in a house that's full of books. Surely you can come up with a better word than that?" Her baby brother Sam, who was the weird one. One day she walked into a room and there he was, and he told her, "I am eating ice." How she put her dad's Billie Holiday albums on the radiator and they melted, and I didn't know who Billie Holiday was (though I DID know what albums and radiators were), and got confused with Buddy Holly. How Anastasia got a job working for a rich lady called Mrs. Bellingham, and how, echoing her employer, Anastasia referred to residents of a public housing complex as "the great unwashed", and her father blew a gasket. Her mother was an artist and always splattered with paint, wore jeans. Anastasia had the same reservations that I do about "the suburbs", though I'd change my mind too if I ended up in a room with a tower. I love how her parents were so intelligent in their parenting, how they treated her like a person. I like how they were individuals in their own rights, with their own first names. These books introduced me to Freud (which was pronounced "Fraud", I imagined), GertrudeStein (who was Anastasia's next door neighbour, and she had a fish, I think, and a short-lived marriage with a man called Lloyd, who'd insisted the double L had a y sound). I remember Anastasia's boyfriend, who was called Steve Harvey and wasn't at all weird, and how he had no qualms about a girlfriend with glasses and intellectual leanings. Oh, and that other boy, with the briefcase, and how Anastasia had told him that her brother was disabled, which led to an enormous misunderstanding.
I remember buying Anastasia books at the World's Biggest Bookstore on trips to Toronto, and we've forgotten how amazing that store seemed at the time. It was also there that I bought Pollyanna, with a foreword by Lois Lowry, which contained the phrase, "Goodness triumphs. I like that!" which I like very much too, except I misread it as, "Goodness turnips" and thought it a most peculiar expression.
I read her other books too–A Summer to Die, Find a Stranger Say Goodbye. I read The Giver just a few years ago, though it was not so much my thing. She told us tonight that her publisher asked her to stop writing Anastasia books, said her appeal had been exhausted, but never! What a spectacular heroine, smart and utterly herself. Which is what Lowry herself seemed like at the lecture, which was fascinating, funny, touching and wonderful. I left the house in a hurry and forgot to bring a pen and paper, so I didn't take notes, but that was sort of nice, actually, because I got to just sit back and listen, and it was so enjoyable to do so.
She talked about being born into a family of readers, about being read it and learning to read. About the books that first impressed her, discovering how words worked, learning to tell stories through an elaborate lie she told to impress a counsellor at camp. She talked about her sister who'd died young, and about how, upon her death, she finally understood what a writing instructor had meant when he'd told her that she would need to suffer a loss before she could really write, and how she turned that experience into story. About how she lived in Japan as a child, riding her bike around post-war Tokyo, and the boy she knew but never spoke to, and how they met again on a stage years later when she won the Newbery Award and he was being awarded the Caldecott Medal for Grandfather's Journey–he was the illustrator Allen Say. She showed us a still from a video of her playing on a Hawaiian beach in 1940 with her grandmother, and how eventually she realizes that it's the USS Arizona in the background, which would be destroyed just over a year later, all the men on board killed. "And this is what literature is," she told us. "The putting together of things."
it was an extraordinary lecture, and something to behold: the actual sight of this woman whose books I've been reading for over 25 years now. I will be introducing Anastasia to my daughters, because apparently she'e just come back into print. But in the meantime, I bought Harriet one of Lowry's books called Gooney Bird Greene, and tomorrow we will read it together.