October 23, 2013
The Faraway Nearby by Rebecca Solnit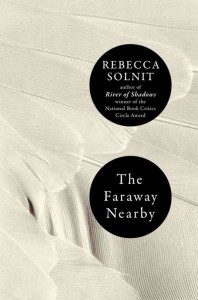 I am glad that I don't have to write a proper review of Rebecca Solnit's new book The Faraway Nearby, that instead of taking the book apart to understand how it works that I got to simply let its impressions wash over me, to inhabit the narrative instead of examining its joists. The book itself, I found kind of by magic. I'd heard about it but it sounded too esoteric for my tastes, but then I kept hearing about it everywhere and seeing it references on social media, and one morning I turned on The Sunday Edition to hear Solnit saying, "Moths drink the tears of sleeping birds…" and I just kind of knew I had to buy this book.
And so I did, taking in its peculiar construction in the the process. Chapters 1-6, Chapter 7 is "Knot" and then Chapters 8-13 are titled as the first six but in reverse order. We finish where we started, with "Apricots." And throughout the entire book runs a single line of text, an essay onto itself. I love this because it meant that as soon as I finished reading the body of the book, I had to open it again, go back to page one, and I respect any book that begs to be read twice.
As I said, we start with apricots, an entire tree's harvest worth. Solnit's mother is in decline, has entered a care home and the harvest is from the home she's left. The apricots, Solnit tells us, are her inheritance, perhaps the most generous one she can expect to receive for her relationship with her mother has been fraught, complicated. But this is not just about apricots. "Sometimes the key arrives long before the lock. Sometimes a story falls in your lap. Once about hundred pounds of apricots fell into mine…"
She writes, "The fruit on my floor made me start to read fairy tales again. They are full of overwhelming piles and heaps that need to be contended with…" She writes, "Trouble seems to be a necessary state on the route to becoming." I want to quote the whole book, really. " Of the apricots: "It wasn't that they were so hard to deal with as fruit, but that they seemed to invoke old legacies and tasks and to be an allegory, but for what?"
Solnit writes of books as places we inhabit, and books inside those books, and on and on, a series of Russian dolls. And it's true that I felt as though my connection to this book was very personal, curious and magically construed. I think the point of this book is that any reader will feel this, which is magic after all. Mirror lead to glass, which leads to glace which is ice, and then Frankenstein. Here is anything you've ever wondered about Mary Shelley, and Mary Wollstonecraft, and mothers and daughters (and apricots) and death. Ice as destroyer; ice as preserver. (Solnit's mind is amazing. It is a dazzling pleasure to feel as though one is inside it.) In the winter, I worked on a freelance project that involved much reading and thinking about the search for the Northwest Passage, which was fascinating, but did mean that I ended up having recurring dreams about travelling through endless night via sled-dog. And it was kind of a pleasure to be brought back there.
"The self is a creation, the principal work of your life, the crafting of which makes everyone an artist." (These were the points in which I started to think that Solnit was the intellectual's SARK. Imagine this book rendered in rainbow print. Oh, but I don't mean it. But I do. And don't love the book any less.)
"In the years she gave birth to all those too-mortal children, she also created a work of ark that yet lives, a monster of sorts in its depth of horror, and a beauty in the strength of its vision and its acuity in describing the modern world that in 1816 was just emerging. This is the strange life of books that you enter alone as a writer, mapping an unknown territory that arises as you travel. If you succeed in the voyage, others enter after, one at a time, also alone, but in communion with your imagination, traversing your route. Books are solitudes in which we meet."
She writes about getting lost in books as a child, about Narnia, and its doorways. She writes about how her own books became doorways, places that other people entered, and drew her into theirs, and how these encounters have changed her life. She writes about the apricots, her mother, deterioration. The coincidences that spark our lives, the coincidences that have shaped hers. And decay as transformation: oh! the places this book goes. She writes about preserving those apricots, canning. Fruit to still-life, and here she is writing all about vanitas, which is a term I'd never heard until I read the essay on Mary Pratt and vanitas. A book inside a book inside a book then.
Oh, what else? The Motorcycle Diaries, leprosy, her own cancer scare. (I am trying to draw you a map through this book. It would probably be easier if you would just read it, please.) "Pain serves a purpose. Without it you are in danger." On how those with leprosy do not feel pain in affected parts of their bodies, which become damaged as a result, and here she is talking about empathy. "The capacity to feel what you do not literally feel." A sentence like, "I found leprosy useful for thinking about everything else…" "The self is a patchwork of the felt and unfelt…" I'm only half-way through the book and I've written nearly 1000 words.
And so it's like this, a fantastic journey through a terrain with someone who sees deeper into the world than you've ever begun to imagined. Solnit is author of a book with the title A Field Guide to Getting Lost, and she makes digression into an art here, though it always winds back around eventually, the narrative accumulating. Winding, threading, Rapunzel and Penelope, spinning and spinsters. She makes connections between virtual threads and literal threads and fabric, and it all comes down to stories. It always does. "Moths drink the tears of sleeping birds." What shape should a book be in a world where that is a fact?