October 6, 2013
The Things I Want to Keep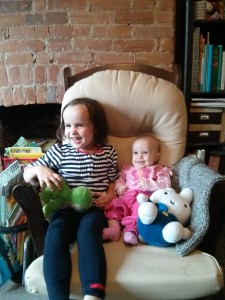 In our house, there is now a big plastic bin full of clothing that will never fit anyone in our family ever again. "Should we keep any of it?" I wondered yesterday, only because I thought I had an obligation to wonder. In actuality, we don't have the room to keep anything and I'm so happy about that because it makes answering such questions much easier. But I wonder too if I will always feel this way, feel the urge to discard pieces of our history, like jetsam.
I haven't always felt this way. Twenty years ago, I saved everything, any flower I'd ever received hung and dried on a line strung across my dusty, cluttered bedroom. Like most teenagers, I took great care to completely paper my room walls with ticket stubs, magazine cuttings, and photos. When the Blue Jays won the World Series, I saved that day's newspaper in a cardboard box. I was born afflicted with nostalgia. (I imagine that I am quite human-seeming in this regard.) I remember listening to Meat Loaf's "Two out of Three Ain't Bad" when I was six, and telling my dad how it reminded of me of the old days (when I was three). Everything I ever did from age 16-23 was carefully mucilaged into scrapbooks. But enough time passed and so much was accumulated that eventually I could see the futility of my attempts to save everything that mattered, and also that the consequence of it all was stuff stuff stuff and necessarily room enough to put it in.
So we don't keep much anymore. I only kept a few of the scrapbooks. I am aided in all this by living in an apartment and not having a basement, and also in that so much stuff now exists online, thereby not requiring room enough at all. My blog is perhaps my most precious repository. But I become overwhelmed even by a large number photos on my phone, deleting all those but the essential because I fear being carried away by too muchness. I hate that there are 18,000 messages in my inbox. Books aside, I feel so much lighter living my life without freight. I have decided to retrieve from that plastic bin the stripy sleeper that both my girls wore home from the hospital when they were born, and the rest will go to charity.
"In fact I no longer value this kind of memento./ I no longer want reminders of what was, what got broken, what got lost, what got wasted./ There was a period… when I thought I did./ A period during which I believed that I could keep people fully present, keep things with me, by preserving their mementos, their "things", their totems… In theory these mementos serve to bring back the moment./ In fact they serve only to make clear how inadequately I appreciated the moment when it was here." –Joan Didion, Blue Nights
Nostalgia, I have learned with time, is an affliction that can't be cured, or fixed with a totem. I will keep that sleeper with me, but it won't bring the past any less faraway. Already, I cannot believe that anybody that I love was ever small enough to wear it.
We went out for posh sushi for dinner last night, our first time having it since our post-partum sashimi party when Iris was 5 days old. I've been awash lately in nostalgia for June, as Iris turns 4 months old and leaves her newborn self behind. June, not so long ago, of course, but forever irretrievable, a time like no other before or since for our family. Such a gentle time indeed, just like I knew it was while it was happening. I have no need to keep anything from that bin full of clothes, but oh, how I want to preserve those memories, those moments. That week I spent lying in bed recovering my c-section, when Stuart brought me all my meals and there were only four people in the world. I can no longer remember what it was like to not be able to get out of bed unassisted, or not to be able to turn over without a great deal of pain. All those memories gone, and I just remember the sashimi party in our room, that posh sushi. That was the night Harriet hung up the laundry, and played with her sticker book we'd just received from my friend Kate. How summer always is, the way you want to bottle it.
I remember Stuart taking Harriet to school in the morning, and then coming home to collapse into bed with Iris and I. I remember this one evening when Iris and Harriet were both asleep, and I sat down and wrote a review of a picture book. I remember reading The Flamethrowers, and Where'd You Go, Bernadette? I remember Harriet scampering up the stairs to crawl into bed with us every morning, and there would be all of us there, everyone I love best on a single mattress, an island in the universe. Stuart ensuring I was stocked with snacks, reading Harriet stories while I breastfed, how I was annoyed to once again be mobile because then I couldn't read so much any more.
In June, Harriet watched the Winnie the Pooh movie with Zooey Deschanel over and over again, and we floated around our house like sleep-deprived lunatics, singing the "honey honey honey" song and "It's Pooh! It's Pooh! Pooh wins the honeypot," whenever we changed Iris's diaper and the situation called for it. How we'd be up at 4am laughing hysterically about Vladimir Putin's relationship with rhythmic gymnast, and saying, "His virile persona…." which was alway hilarious. The afternoons when Stuart would strap on the baby and take the children away, and I'd be blessed with an hour or so of precious aloneness. I remembering leaving the house even–hobbling to the farmer's market clutching my incision, going out for ice cream, walking to the playground to fetch Harriet from school. Her class's end of the year picnic and glorious sunshine. The first time we took the baby out for a meal, for lunch on Father's Day and she didn't explode. Tremendous kindness from everyone: cards and presents in the post, meals dropped off, baked goods and visits. All this proof that we were connected to the world and that the world is good.
None of this particularly monumental, of significance to no one but me, though I suspect that it might remind you of your own precious memories, you own very best times. These are those memories that don't dissolve into the blur of every day, though dissolve they someday will, all the same. And so to counter that, I write them down here, preserve them in my way. These are the things that I want to keep.