October 6, 2013
Accusation by Catherine Bush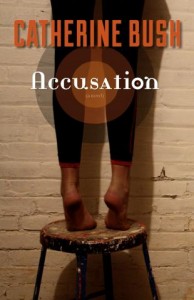 "I'm not a circus person," explains the protagonist of Catherine Bush's fourth novel Accusation, a line that had me nodding along in agreement. It's many the author who finds literary inspiration in the circus spectacle, but books about circuses in general tend to bore me, with their freakish humans, chained-up animals and trapeze tragedies. I like my literary characters planted on the ground, preferably one that is concrete. Catherine Bush's novel, however, is something altogether different from the usual circus story, no big-top for her, but instead a pared-down spectacle, a children's circus in Ethiopia whose attraction is its performers and the amazing ways they can contort their bodies, how they can catch fire that they throw in the air.
Bush's novels are always planted much more in concept than narrative and plot, and they are markedly unusual for this. They are also remarkable for their realism, details that plant the stories deep in the ground, on very specific sidewalks and streets, so that a book about a mother orbiting the Earth in Outer Space seems not so far from one's own experience at all (as in her first novel Minus Time), and so too with this this novel about a journalist driven to explore a(n alleged) crime committed an ocean away amidst a community of street children turned circus acrobats. And this is just one way that this novel turns in on itself as we read it, for it is a story about how we project our own experiences upon those of others (and indeed, as Madeleine Thien read the novel through the lens of race, which never even occurred to me).
That Bush's novels are planted more in concept than narrative does mean that they tend to be structurally weird, and weak in places. It takes Accusation awhile for its wheels to really start turning, and this is partly because Bush has so many narrative strands to establish. We have Sara, the journalist, who stumbles upon a performance by the children's circus in Copenhagen. Back home in Toronto, she has a lover whose wife is undergoing cancer treatments. She also has pain her own past involving parents who are emotionally and geographically estranged, and an incident in which she'd been accused of theft and credit card fraud, sullying her reputation and severing important relationships. At a benefit, she connects with Raymond, the leader of the children's circus she'd seen in Denmark, a black Canadian from Montreal who'd been working abroad for years. Curiously, he requests a drive to Montreal, six hours away. There has been an emergency with the circus troupe, a fall and a terrible injury, and he must return to Addis Ababa as soon as possible. On the long drive along the 401 through the darkness, she feels an affinity with him in his moment of anxiety and tells him the story of her accusation and trial. Just preceding this, there is a stunning scene of him breaking out juggling at a highway rest stop in the middle of the night, people gathering around him. The magic of this man who can summon magic into being with simple dexterity.
A few months after their curious journey, Sara learns that Raymond has been accused of abusing the children in his care, circus performers who'd defected during a tour of Australia. Due to her own past and also because of the odd intimacy of the few hours they'd spent together, Sara finds herself inextricably drawn to this story, journeying to Ethiopia in search of the truth. What she finds there is even more complicated, however, calling her deeper into this story in which she cannot truly be a detached observer, no matter how hard she tries. For better or for worse, and for all manner of reasons, her own thread in this narrative web alters the shape of the story she sees and tells.
Once the novel's momentum is established, it continues at a heightened pace and nary a clue as to what twists the next page may bring. It was Page 262 where I gasped out loud. Eventually, the story of Sara's own accusation began to seem extraneous and not sufficiently explored enough to warrant its place near the pinnacle of the novel, though I was so swept up by the more central plot that I ceased to mind that much. Bush explores the ethics of journalism, justice, story-telling, friendship and love, as well as the relativity of truth, or whether truth even matters at all. What is the line between the story as it is and the story we imagine? Does any story even really exist outside of our minds?
Accusation is ambiguous, complex and full of beautiful, multi-claused sentences that are sometimes as difficult to untangle as the novel's plot is. But in the untangling, the reader becomes deeply engaged in the prose and the plot, part of the story herself.