September 22, 2013
Oh, My Darling by Shaena Lambert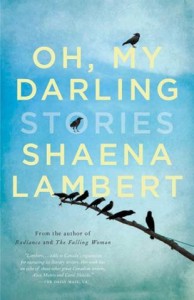 While I was pleased that Shaena Lambert's short story collection Oh, My Darling received a good review in The Globe and Mail recently, I couldn't help thinking that the reviewer had kind of missed the point. That her stories-as-houses metaphor had failed to consider the construction of the book entire, that here the book itself is a house, well-built and with a strong foundation, which is remarkable for a story collection. I mean, it's what a story collection should strive for, but many collections really do end up being haphazard piles of all an author's publishable stories to date (and some of the stories not even that) rather than a proper whole, but Oh, My Darling really is, and a most impressive one at that.
And I love that, that here is a collection where I can tell you about the book, its themes, its shape, rather than just telling you the plots of three or four of the stories I liked best. Oh, My Darling doesn't actually reference Clementine, which wikipedia has revealed to me is actually a satire (because who would write a song about a drowned girl whose feet were so big she had to wear boxes instead of shoes?) But its preoccupations are just as morbid, and so darkly humorously so at times that I am sure that Lambert knew about the satire. That tireless refrain, powered by blustery, lust-ery, souls laid bare. So much feeling for something seemingly shallow. Sound going nowhere. Just imagine how it would echo in a cavern, in a canyon, excavating for a mile…
The book is framed by two stories about middle-aged women whose lives are about to change with diagnoses of cancer, though this is a straightforward interpretation of two stories that are very different and not straightforward at all. Each experiences a kind of dissatisfaction with her lot, a sense of dread that is shared with characters in most of these stories. The dread is a beneath-the-bones kind of thing, hard to pinpoint, but it is mortality, it is death. (Everything rustles, and it occurs to me that Jane Silcott's essay collection would be a fine nonfiction companion to this book).
"Welcome home" is the last line of the first story, "Oh, My Darling", a greeting to the woman whose cancer is going to make her really aware of living in her body for the first time, an awareness that comes with age even without cancer. Bodies are so thoroughly inhabited throughout all these stories, and fitted with parts–never have I encountered so many vaginas in one text. Bodies are bound and unbound, bodies are revealed, mottled middle-aged bodies with wrinkles and scars and unfeeling abdomens whose nerve endings were never repaired after cesarian sections so long ago. Fragile, flawed and precious. Oh, My Darling.
These are stories of women mostly, usually ordinary, middle-class, each with her own particular tragedies, her own emotions and feelings which can seem so profound and yet are part of a larger scheme, un-grand in its scope. She has a yearning for something just out of reach, but only when she is distracted from day-to-day life. There are things to be done, and she does them, unable to articulate the feeling, the fear in her bones–something decidedly bodily. How do we fit into the world, into our lives, mother-daughter relationships which are freighted and fraught, the awkward symmetry of marriage, the stunning pain of loss. Kitchen-sink stuff, yes, but then there is a drag-queen who is the son of Nazi war criminals and walks on his hands, as well as a death by mountain lion, by which I mean that this collection will surprise you.
And I don't mean that the stories themselves aren't worth remarking on either. They are gorgeously, effortlessly crafted, and I particularly admired Lambert's deftness with chronology, her ability to telescope back and forth through time to consider a moment from all angles, as well as the force of her omniscience. How she is able to zero in on a single detail, a moment, and the rest of the story is a sweeping symphony all around it.