September 15, 2013
We met Sheree Fitch. And that's the least of it…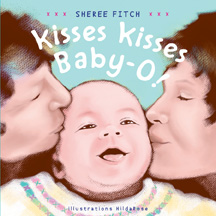 They didn't have Sheree Fitch when I was a little girl. But when Harriet was very small, someone gave us a copy of her board book Kisses Kisses Baby-O, and we loved it, its rhyme and rhythm, its simplicity and lovingness. Not long after, I learned that Sheree Fitch had written a novel for adults, called Kiss the Joy as It Flies; I read it for a few days in darkest January, and I remember how it lit up my life.
I think we got Peek a Little Boo sometime after that, which fast became a favourite. Harriet loved the baby faces, we loved the song, and we changed the words so they said her name ("Amazing Harriet, how do you do? Happy Harriet, huggle-wuggle you!") to hold her attention extra-fast.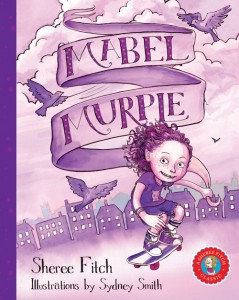 Around this time, Mabel Murple was being re-issued, which was immediately beloved and resulted in Harriet's favourite colour being purple for some time (and the purple house on Brunswick Avenue is called "Mabel Murple's house" still). We read this book regularly, as recently as last night, and also spend a lot of time talking about it and speculating about its extraneous story (like the shadow of Mabel's mother which is visible on one page as Mabel gets in purple trouble).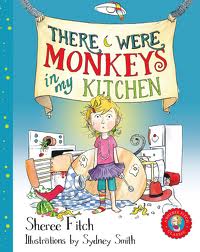 We got Sleeping Dragons All Around, and while Harriet went through a period where she found it "too scary", that was only temporary. She loves all things dragonish these days, and so the book is a favourite (and I would like to hang a plaque on my wall that says, "We dance in the kitchen! We don't do the dishes"). Was Monkeys in My Kitchen next? I think so. We love that one too.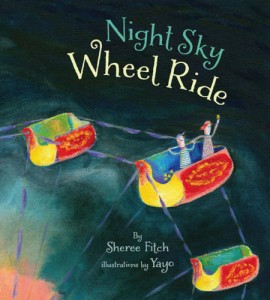 I had become online friends with Sheree by this point. (I interviewed her in 2010, and had also read her beautiful collection of poetry for adults, In this house are many women.) We were the lucky recipients of Night Sky Wheel Ride, which arrived  in the post on Harriet's third birthday. I remember literally dropping everything and sitting down to read it with her on our front step, and being amazed by it. "Can you hear the mermaids murmur/beluga whales sing/ feel the whirling stir/ of every little humming phosphorescent thing?" That line blows my mind every time I read it, which is often. Recently, we got If I Had A Million Onions, which is wonderful.
I am laying this all out to illustrate how Sheree Fitch has been a huge part of our family for Harriet's entire life, which hasn't been a long life (yet) but still an entire one (so far) which is not insignificant. In fact, Sheree Fitch is one of the things I kept in my pocket as we knew that Iris was coming, one of the parental things we'd have about immediately this time and which would make this babyhood oh so much better that it would be in a Fitchless world.
I am laying this all out because today something extraordinary happened: we met Sheree Fitch! We went to the Eden Mills Festival, which was lacking in sun but otherwise really lovely, and rain very nearly held off too. I managed to catch Saleema Nawaz reading after I had my lunch, but otherwise spent the afternoon in the kids' area, partly because crying babies are better tolerated there, and also because the readers were wonderful–Aubrey Davis was a particular highlight.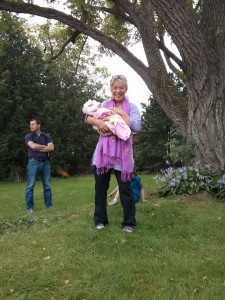 But then. Sheree Fitch. Dressed in purple (naturally). Who actually stole my crying baby and calmed her down while the rest of our family listened to readings. Sheree Fitch. In real life!! It was like meeting a rock star. Oh, I was so thrilled, but this was only the beginning.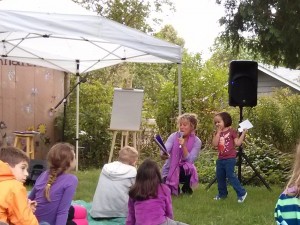 I took Iris back while Sheree took the stage to read Mabel Murple. And somehow, Harriet was standing beside her. Sheree began to read, and Harriet read along with her, the whole book memorized, finishing sentences, particularly emphatic upon her favourites: "I'm a purple person and I roar away my troubles!" "Skateboard scallywag, Mabel Murple's on the loose (and they skedaddled)" And that purple teddy bear named Snickerknickerbox, who snored.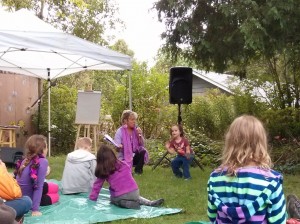 It was amazing. And not just because Harriet is someone I am particularly fond of, and because I am one half of the two people who have read her Mabel Murple 3000 times, but because it was wonderful to see, how Sheree's joy is contagious, the generosity of her spirit, how her books performed aloud are more amazing than I ever expected (and my expectations were pretty high). Because a book can get so far into a little kid's head, and because books are so incredible, and how wonderful are these days when we get to celebrate them together.
Because we met Sheree Fitch. And also because Harriet had her Eden Mills debut, which we certainly weren't expecting. As I watched it all unfold, it was completely clear that this was one of the greatest things I would ever witness in my long, long joyful life.