September 7, 2013
How the Light Gets In by Louise Penny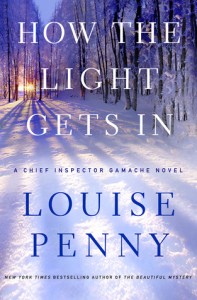 There is. Something. Something about the way Louise Penny writes. The style of her writing. The manner in which her sentences. Are formed. If I pay too much attention her prose makes me crazy, and yet I have so completely overcome these reservations that I am now the type who buys her book in hardback the day it comes out, as I did last week with How the Light Gets In. Such a delight for a book to be an occasion, and then to encounter neighbourhood friends who ask if I've finished it yet, who implore me to get in touch as soon as I do so we can talk about it. And when I finish the book, I understand why; How the Light Gets In is worthy of an occasion entirely.
Once again, we find ourselves back in Three Pines, the idyllic village in Quebec's Eastern Townships so isolated that it doesn't appear on any maps, where cellphone reception disappears, and to which murder is curiously common. They've got Chief Inspector Armand Gamache on speed dial there on their ancient rotary phones, a phone from which psychologist turned bookshop owner Myra Landers rings when an expected guest fails to arrive for Christmas holidays. Gamache is just days away from joining his wife for the holidays in Paris with their children, still dealing with desertion by his long-time friend and lieutenant Jean-Guy Beauvoir, and conscious that he's a marked man by the corrupt forces high up in Quebec's Surete police force. A trip out to Three Pines promises a reprieve, as the villagers grace him with their characteristic hospitality.
But as ever, the trip will be business, not pleasure. Gamache's investigations reveal that Myra's friend has been murdered, found dead in her home in Montreal. Myrna is loathe to reveal her friend's deepest secret, which is that she was the last of the Oullette Quintuplets, five identical little girls who were once famous the world over. Could her background have something to do with her death?
Meanwhile, Gamache is still trying to unravel the web of corruption at the Surete. The few colleagues who are still loyal to him have come under threat through their investigations of the police department's computer archives, and Gamache decides that Three Pines is the safest place for them to hide. Their investigations turn into a dramatic game of cyber-cat and mouse, culminating in a fantastic showdown between the forces of good and evil. Gamache has always believed that good will ultimately triumph, but this time will he be proven wrong?
What is the attraction of Louise Penny's novels, my reservations with her prose still being what they are? I think part of it is the intimacy she creates, between reader and place in her remarkably evoked village of Three Pines. And also the intimacy between the characters themselves, so much between them that doesn't need to be explained, allowing the novels to progress in ways that are surprising. And finally, the intimacy of her narrative, her shifting points of view which enable us to understand her world from a wide range of perspectives. Which is not to say that her readers know everything. In fact, in this book in particular, the plot is operating on a whole other plane that readers are not even aware of until an incredible twist at the conclusion, and I promise that you never see it coming.
On Penny's website, she calls How the Light Gets In a culmination of the Gamache books so far, the pay-off. And while it really is a most fitting culmination, one can't help hoping that it isn't. As ever, Penny has left her readers wanting more.