August 14, 2013
Destination Bookshop: Ella Minnow Books
Destination Bookshop is a new feature here at Pickle Me This! Part book-shopping-spree, part city travel guide, we want to inspire you to visit vibrant neighbourhoods all over the Toronto with excellent bookshops as a chief attraction.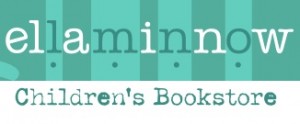 Ella Minnow Children's Bookstore brought us to the Beaches one day in late July. Located on Queen Street East just east of Woodbine, the shop was definitely worth the journey and situated in a neighbourhood with so many excellent things to do.
The Shop: We were warmly greeted upon entering Ella Minnow, and informed that as this was our first visit, we should probably start at the back of the shop and work forward. This was especially exciting because it was in the back that we met the resident rabbit, a white bunny called Marshmallow.
The shop is well-organized, with books for older readers at the back and picture books and those for younger readers at the front. The feel is definitively maximalist, charmingly cluttered even. I love the worn wooden floor. Books are everywhere, displayed facing out and also by spine like a library. Stock is carefully curated for quality, and not a Disney princess in sight. Bewarned that the shop does sell toys, but they're pretty good ones, and many are bookish tie-ins. I'm always up for a bit of Mo Willems plush.
They've got new releases, lovely hardbacks, vintage paperbacks (a wide range of Virginia Lee Burton, I notice approvingly) and a good selection of Canadian authors/illustrators and small presses. After some debate, we settle on Read Me a Story, Stella, the new book by Marie-Louise Gay.
Ella Minnow was a pleasure to explore, and we could have played all afternoon, but there was more to do…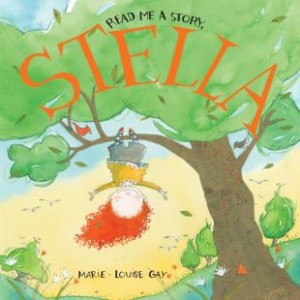 Where to Play: Kew Gardens is a fantastic park just east on Queen Street. The park features an excellent playground with a fun climbing structure, beautiful shady trees, lots of room to rove and explore and so much going on–it's quite the community hub. We made our way through the park down to the beach on the shore of Lake Ontario, and bumped along the boardwalk. On good days, the beach is great for swimming, though it was more of skipping stones day when we were there.
When you get back to Queen Street, make a wee stop at the Beaches Library, a beautiful building and one of the city's historic Carnegie Branches.
And of course, there are plenty of fun and interesting shops along Queen Street.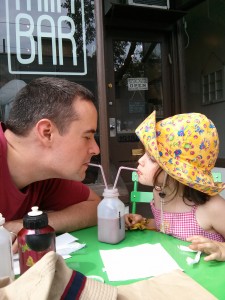 Where to Eat: Attracted by a sign promising free ice cream with lunch sets, we had lunch at Thai House Cuisine (2213 Queen Street East), and it was delicious. Snack-wise, Ella Minnow is well-situated with a Dufflet Cafe next door and even a door between them–great for a cake and a coffee or tea. And don't miss milk and cookies at Moo Milk Bar.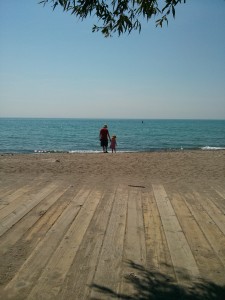 How to Get There: You can get to The Beaches by transit, on the Queen Streetcar (a [slow] adventure in itself) or by taking a bus south from eastern stations on the Danforth line. We elected to drive, however, as these days we travel with a baby and a ton of stuff. The trick of driving, however, is parking, which is hard to come by in the 'hood, and also that the narrow, congested streets are busy and traffic is slow. This is one of those rare "it's the destination, not the journey…" situations.
So what else are we missing? What other great things lie within the vicinity of Ella Minnow? Let us know in the comments in order to make Destination Bookshop all the more comprehensive.