August 9, 2013
How the Reading Stacked Up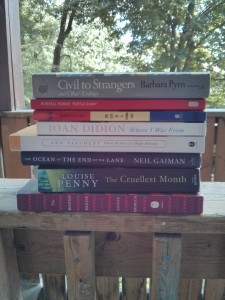 Thankfully, the black clouds that hung over our vacation at the cottage were literal rather than metaphorical. I'm also glad I didn't have to be on vacation with a newborn in a heat-wave. It was a funny week, each of wearing the one sweater we'd brought with us every single day. Harriet didn't have as many playmates as in recent summers, and it was also strange to be on vacation when nobody in the family is working. We didn't get that same sense of glorious reprieve, but we did get a lot of ice cream, Harriet rode a pony, and I got a lot of reading done. We had to settle for a week away that was good rather than miraculously brilliant, and so we did. We are quite heroic.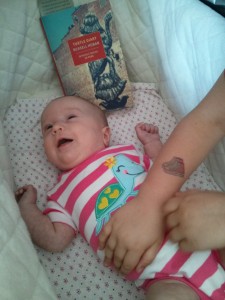 I read the short stories in the Barbara Pym book in the days before we left. Upon arrival, Russell Hoban's Turtle Diary was first up, which Jared Bland writes about in the Globe this week. It's a difficult, funny and terribly sad novel, just the kind of novel you'd think the man who wrote Frances would author. Though I found the ending strangely uplifting, and I wasn't sure if I was supposed to. I reread Joan Didion's Where I Was From next, my first reread, and I adored it. It was fascinating to see it in the context of Blue Nights and Magical Thinking, in the context of a trilogy. Her California is my land of dreams. I read The City is a Rising Tide next, the novel by Rebecca Lee whose Bobcat and Other Stories has so enchanted me. Truth was this was really a very long short story instead of a novel, but I loved it because I've become quite fond of Rebecca Lee's writing and there it was. An ARC of Ann Patchett's essay collection next, and you'll be hearing more from me on that in the future. And then Neil Gaiman's The Ocean at the End of the Lane, which seems to be the book of the summer in my circles. I really don't do fantasy, and any exposure I have to fantasy underlines this (A Wrinkle in Time notwithstanding, curiously), but the Gaiman book was short and its realist elements were so compelling. I loved it. Perhaps my problem with fantasy is that all the novels are 800 pages long.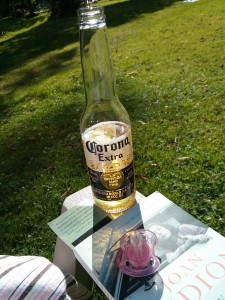 We'd already made our annual pilgrimmage to Bob Burns Books in Fenelon Falls, Stuart picking up a stack of Terry Pratchetts, Harriet getting a couple of picture books as well as a Vinyl Cafe story collection (Stuart remarks that we're trying to save her from nerdom by trying to undermine her dragon obsession. I suggest her obsession with Stuart McLean is just another kind of nerdom), and I got The Round House by Louise Erdrich, which I'm going to be reading in the next few weeks. And then on Wednesday, it occurred to me that I wouldn't be able to function unless I got my mitts on a Louise Penny book, and so we went back to Bob Burns (just before we had Afternoon Tea at the Fenelon Museum) and I got The Cruellest Month, which was so scary and wonderful. I have become a Louise Penny fanatic, and seem to have overcome my initial aversion to her weird sentence fragments.
I finished The Cruellest Month at home, and then read Pym's Civil to Strangers. And now all week I've been reading The Collected Stories of Grace Paley, as instructed by Ann Patchett, actually. I've also been busily writing, which the Paley has aided, I think.
And now we're into August, which makes September seem almost inevitable. And the truth is, I am pretty excited. This summer has been the sweetest gift, the most wonderful dream. Iris is nine weeks old, growing so fast, and I am so grateful that we've had this time in which to enjoy her, her brand new babyhood, and each other. But the transition to September is going to come about naturally, I think, with Harriet beginning Junior Kindergarten, Stuart returning to work and also taking on some pretty cool new opportunities, and me returning to work at 49th Shelf. I'm actually really looking forward to it, and other exciting projects and events I'll be involved in this Fall. Um, not to mention that I have a book coming out in the spring, which has not been so much at the forefront and I nearly forget it is really happening.
Posting here will remain irregular over the next few weeks as our family works to get the most out of summer (and as I vow to read as many books as possible before Real Life sets in again). We've got a trip to Toronto Island still before us, as well as a visit to the zoo, get-togethers with friends, afternoons in the park, patio lunches, the CNE, and a long weekend trip to Grand Bend with our friends. I also have a doctor's appointment to determine just what exactly what we're going to do about my enormous thyroid, which I am looking forward to being done with.
But why am I even telling you this? You're not reading anyway. I know you're outside drinking up the goodness of summer, or at least if you're not, you should be.