July 25, 2013
Ellen's Lion by Crockett Johnson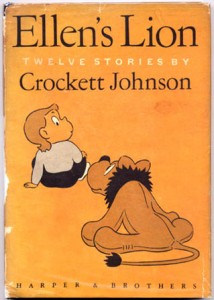 We go to the library every week or so, and I wander the stacks plucking books off the shelves with never an idea of which will "take". Most of them are good or okay, some of them we read once and never read again, and then once in a while (and we never know when) there is a book we fall in love with. Ellen's Lion by Crockett Johnson was such a book, though we came close to missing it altogether. It was small, old battered, and text-heavy, so Harriet never picked it up from the pile. We only started reading it when we learned that someone else had requested the book and therefore we couldn't renew it, but it quickly became apparent that Ellen's Lion is a book we had to own.
Published in 1959 and written and illustrated by Johnson (of Harold and the Purple Crayon fame), Ellen's Lion is a book it is impossible to imagine that Mo Willems hadn't been thinking about when he created his wonderful Amanda and her Alligator. The books are so similar in approach and tone, the story of a sparky girl and her strangely animated stuffed toy, dealing with the peculiar power dynamics between them. Though Johnson's book is a little bit darker, Ellen's stuffed lion a more complex character than Amanda's alligator (and not always altogether kind). Johnson also plays interestingly with the fact that the lion's animatedness is fuelled by Ellen's imagination only (or is it?). There is a marvelous depth here that recalls what I love best about Arnold Lobel's Frog and Toad.
There are few illustrations in the book, so it's not going to appeal to everybody, but we were drawn in by the remarkable character of Ellen herself (who bears an uncanny physical resemblance to Harold). The book begins with the story "Conversation and Song", whose opening is:
Ellen sat on the footstool and looked down thoughtfully at the lion. He lay on his stomach on the floor at her feet.

"Whenever you and I have a conversation I do all the talking, don't I?" she said.

The lion remained silent.

"I never let you say a single word," Ellen said.

The lion did not say a word…
Finally, the lion talks, and Ellen tries to persuade him to join her in singing a round. Oddly, it doesn't work. It seems that Ellen and her lion are incapable to singing two different parts at once.
In the other stories, Lion rides on Ellen's train set all the way to Arabia. Ellen phones the police to report a lion in her room, and then must hide her lion when the (imaginary?) policeman arrives. In "Two Pairs of Eyes", Ellen uses her lion's button eyes to look for the things in the dark she can't see behind her. In "Doctor's Orders", Ellen plays doctor and tries to convince Lion that he's a poor, ill little lion who just can't stop smoking. Ellen tries to convince the lion that he should be a tiger when he grows up. Ellen's acting in a play in "Five Pointed Star", and Lion must resist her efforts to involve him in the performance. In "Sad Interlude", Ellen tries to project great melancholy onto her lion, but he's not playing. In "Fairy Tale", Ellen goes from game to game, imagining she's a fairy, then a knight, then a princess, without transitions even, all the while she is eating a muffin with raspberry jam. Her imagination is inexhaustible. And in the final story "The Last Squirrel", a new toy threatens to displace Ellen's Lion, but the history between girl and plush creature proves a bond too strong to sever.
There is one moment, or one word, only when this book shows its datedness. "I'm going to be a lady fireman," Ellen shouts as she explains to lion that he's going to be a tiger when he grows up, not her. But even the sentiment of this demonstrates the kind of book that Ellen's Lion is, that Ellen is a strong, feisty and spirited heroine whose gender is incidental to her character (and that's why I loved Willems' Amanda too). I might declare that Ellen was ahead of her time, though the fact of the matter is merely that contemporary female picture book characters in general are undergoing a bit of a regression.
I love this book. We bought a used copy from Amazon for a very low price, though it's also currently in "print" as an e-book. The really cool news, which we discovered yesterday, is that Johnson wrote a sequel to Ellen's Lion, called The Lion's Own Story. However this cool news takes a tragic turn–the book is not available at the library and used copies sell for $300. Has anybody read it?