July 24, 2013
The Day the Crayons Quit by Drew Daywalt and Oliver Jeffers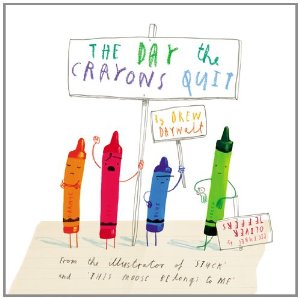 "Down with this sort of thing!" screams the red crayon's placard on the back of The Day the Crayons Quit, a new book by Drew Daywalt and illustrated by THE Oliver Jeffers. And oh, this book is funny, appealing to the little ones listening and their parents alike. More over, to those of us who are postally inclined: here is an epistolary picture book, illustrations of airmail envelopes even. They're among a huge stack of envelopes tied up with string that Duncan discovers one day at school when he's taking out his crayons. It turns out the crayons have quit, however, their letters voicing each of their respective protests: red is sick of the overtime, having to work through the holidays colouring Santa Claus and Valentine hearts; beige hates having everyone think he is boring ("when was the last time you saw a kid excited about coloring wheat?"); grey is exhausted from overuse, with Duncan's affinity for elephants, hippos and whales, each of them so big; white is barely there; orange and yellow are in a feud about the colour of the sun. And so it goes, letter by letter, colour by letter, until Duncan devises a clever way to bring peace to his crayon box.
There is a reference to nakedness and underwear, demonstrating that you can be smart and appeal to the lowest common denominator at the same time, much to my daughter's amusement. The book is gorgeously illustrated, Jeffers' familiar collage approach shown here as the pictures include the texture of actual pieces of paper and pages from colouring books. The crayons themselves are simply drawn, but still have enormous personality. The art they're used to create is charmingly convincing as that made by a childish hand.
Here is a wonderful testament to the hidden lives of ordinary things, as well as to childhood creativity and the pleasures of rainbows.