July 17, 2013
Les Ontoulu ne mangent pas les livres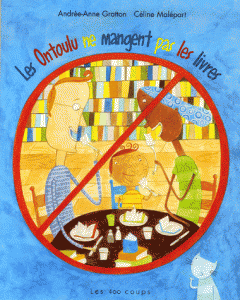 We have to thank my lovely cousin, who is my oldest and one of my dearest friends, for delivering this most remarkable picture book into our life. She'd had enough of waiting for Les Ontoulu ne mengest pas les livres to be translated into English and so gave it to us in its original French, along with her very own English translation alongside. And thank goodness she did–this book is wonderful! It is a story about the Ontoulu family (whose name translates as "Read It All"). Their home is full of literary treasures, and the parents are eager to pass on their love on books to their adorable son Lulu. Because books are their life– the Ontoulu's read books, write books, collect books, they even eat bo– no! don't be ridiculous! They'd didn't eat books!
But when they do introduce books to wee Lulu, figuring that he will love them as much as they do, he promptly sticks them in his mouth. Apparently they feel so good on his teething gums, and the Ontoulu parents are horrified. "Lulu, in our family we don't eat books," they tell him and they take the books away until he's finished teething.
But the next time they give him a book, he throws it on the floor–he loves the music the book creates as it lands. He draws in his picture books. He tears out the pages of a travel book to make into a kite. And his parents are exasperated, while poor Lulu really doesn't understand both why they're so unhappy with him and what's the big deal about books anyway? They seem to only create problems, and besides, he's never once managed to get to the end of a story.
One day, however, in an effort to cheer up his Papa who is sick in bed, Lulu opens up a book and begins making up a story of his own. His Papa realizes that of all the literary treasures in their home, the amazing stories that Lulu imagines are the greatest of all of them. He and his wife develop a more playful attitude toward their home library, conceding that books sometimes do indeed make fine building blocks for constructing castles and other splendid unconventional things. And with his parents' more relaxed approach to the bookish life, Lulu begins to understand their passion and decides that he too is going to become a reader of books, a writer of books, a collector of books and an eater of bo–no! don't be ridiculous! He's not going to eat books.
How lovely to read a Canadian picture book in our other official language. Merci, ma cousine!