July 7, 2013
The Silent Wife by ASA Harrison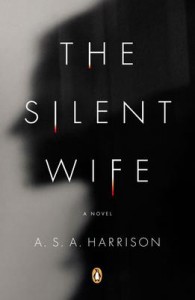 For me, last weekend belonged to The Silent Wife by A.S.A. Harrison, a perfect summer book if compulsive page-turning in the sunshine happens to be your thing. It's a book that's been compared favourably to Gone Girl, though it's a very different literary creature. It's not a whodunit, but instead a "Why'd she do it?" It being murder, of course. We learn at the novel's outset that Jodi will kill Todd, her husband of 20 years, and the rest of the novel illuminates what would bring a seemingly rational woman to such a point.
"Seemingly" is the key word though. Jodi Brett is rational to the point of near-madness, a therapist who prides herself on psychological acuity. It seems that she is as blind to her own self, however, as she imagines she is to her husband indiscretions. Todd is a cheater, and he's always been, but the stakes are different now. Natasha, the daughter of Todd's oldest friend, is pregnant, and she informs Jodi that they're going to be married. Married. Which Jodi and Todd have in fact never been, Jodi adamant that she will not relive the life of her mother, eternally put-upon by a philandering husband. No, she's always refused to be married, even when Todd asked her, just as she refused to see that her life has assumed the same shape as her mother's anyway.
The story is told in alternating chapters from each partner's perspective. Todd is a convincing portrayal of a guy who just can't help himself, though that Jodi has tolerated his cheating for two decades suggests that she's less a victim than an enabler. It is hard to have sympathy for either of them, and what compels the reader instead of any sympathy is curiosity as this disastrous relationship heads toward its inevitable end. Curiosity too to unravel the workings of Jodi's mind, and while Harrison provides an impetus for her behaviour that detracts from the story, it's still fascinating to see insanity comes in all matter of forms. That is terms of awfulness, Jodi and Todd are in fact a perfect match.
Harrison manages to craft suspense in a story whose outcome is sure from the beginning, though not entirely sure. The conclusion of The Silent Wife is still surprising, ambiguous and clever, the perfect ending to a really good book.