May 7, 2013
City Books for Spring
(This post is cross-posted over at Bunch)
Right now as spring arrives and family life moves back out of doors, it is a perfect time to share some books that connect readers to the local and which affirm the goodness of life in the city.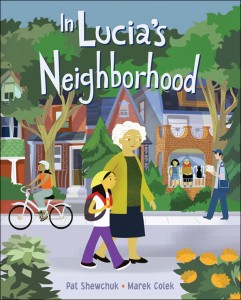 In Lucia's Neighbourhood by Pat Shewchuk and Marek Cole: This picture book based on the NFB film Montrose Avenue tells the story of "the ballet of the good city sidewalk" (as quoted by Jane Jacobs) in Toronto's Little Portugal neighbourhood. The book opens with the epigraph by Jacobs, and then goes to render the urban visionary's ideas in a way that a child can easily understand. A fabulous celebration of city life, In Lucia's Neighbourhood is most remarkable for its illustrations which are so utterly Toronto: streetcars, three-panelled windows and wrought-iron porches. How wonderful to encounter one's own world within the pages of a book.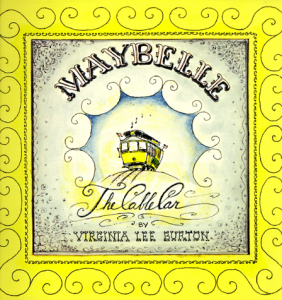 Maybelle the Cable Car by Virginia Lee Burton: This one's not a Toronto book, but in some ways it may as well be. San Francisco's iconic cable cars are under threat, as Big Bill the Bus explains to Maybelle: "I just heard the City Fathers say/ the cable cars must go…/ that you're too old and out of date/ much too slow and can't be safe/ and worst of all YOU DON'T MAKE MONEY./ What they want is Speed and Progress/ and E-CON-OMY…" San Franciscans don't respond well to the potential loss of their cable cars, forming a citizen's committee to save them. Petitions lead to a referendum, and the cable cars are preserved. "We, the people, are the City. Why can't we decide?" And with that, your child's political foundation is laid.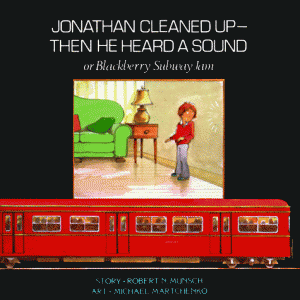 Jonathan Cleaned Up and Then He Heard a Sound by Robert Munsch and Michael Martchenko: Another book that seems eerily prescient of the current state of Toronto politics. "Subways, subways, subways!" indeed, and somehow a station has appeared in Jonathan's house. "If the subway stops here, then it's a subway station," Jonathan is told by a TTC conductor who has a relaxed emphasis on customer service and instructs Jonathan to go to City Hall if he doesn't like it. When Jonathan gets there, the Mayor has run out for lunch. Wandering the empty corridors of City Hall, he comes across an old man crying behind "an enormous computer machine." Turns out the computer is broken and the poor man behind it is responsible for running the entire city. Jonathan gets him to move the subway station in exchange for four cases of blackberry jam, demonstrating that sometimes civic engagement (and bartering) is the only way to get things done.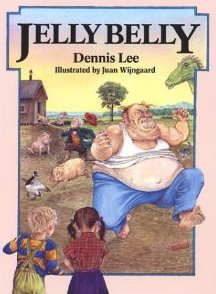 Jelly Belly by Dennis Lee: This one is not the most obvious contender for the list, but I happened to be reading it soon after reading Edward Keenan's Some Great Idea, and noticed some parallels between the two books, absurdest story-telling aside. Lee gives us poems not only poems about garbage men and traffic jams, but also a reference to David Crombie in "The Tiny Perfect Mayor" and another poem called "William Lyon Mackenzie."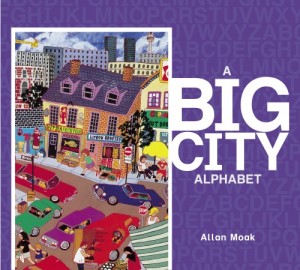 A Big City Alphabet by Allan Moak: I loved this book as a child, and now I love that my daughter is growing up in the very places Moak's paintings illustrate. City kids will recognize their favourite parks, Kensington Market, the AGO, laneways, variety stores, and other familiar spots. (Hint: A gorgeous print of "I is for Island Ferry" is for sale for $5 at St. Lawrence Market's Market Gallery, along with other prints from the city's art collection).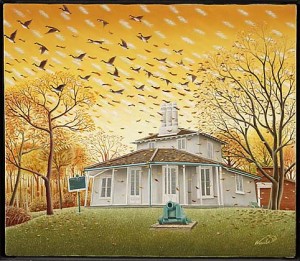 Who Goes to the Park by Warabe Aska: We picked up this book as a library discard, a most excellent find, as used copies are hard to come by. Fortunately, a few copies are still circulating in the library system. In his beautiful paintings which manage to perfectly meld realism and the ethereal (as all the best parks do, really), Aska tells the story of Toronto's High Park throughout the four seasons, and of all the people and other creatures which are part of life there. (Image courtesy of the Osborne Collection's online art exhibit).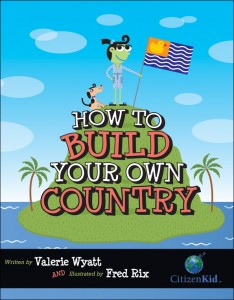 How to Build Your Own Country by Valerie Wyatt and Fred Rix: Older kids with an interest in politics and civic life will appreciate this multi-award-winning book from the Citizen Kid Series. It's a step-by-step guide to building a nation from scratch, and also serves as a fantastic illustration of how our society and those of other countries are structured–however precariously.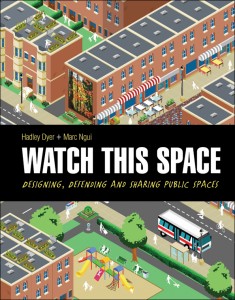 Watch This Space by Hadley Dyer and Marc Ngui: Another non-fiction book for older readers, this one about "designing, defending and sharing public spaces." This one is a nice extension of In Lucia's Neighbourhood, with references to Montrose Avenue and Jane Jacobs, even, but also takes on a global perspective and discusses how public space is used differently around the world. It"s a vibrant and engaging book with all kinds of suggestions about how to employ its many lessons out on the street.