March 27, 2013
The Stop by Nick Saul and Andrea Curtis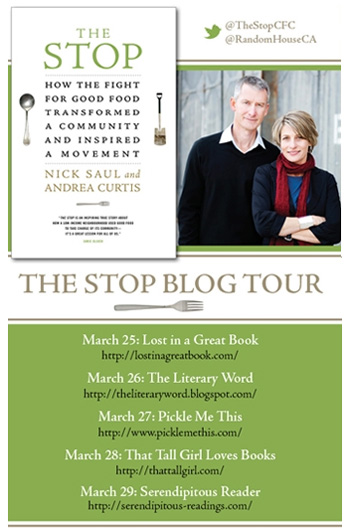 Oh, there is nothing quite like the The Stop's Farmers' Market. To get there, we have to trudge up the hill above Davenport Road, which is no small feat pushing a stroller, but the journey is worth it. In the winter, to arrive inside the big hall at Wychwood Barns, full to bursting with people touring around the tables heaped with fresh produce, delicious breads and cheeses, and other wonderful things. In the summer, the market spills outside into the grounds surrounding the Barns, and you've got to set a budget or else you'll go mad–cherries, pickles on sticks, cinnamon buns, sushi, honey, cookies. We don't want to snack too much because we're planning on having our lunch at the Market Cafe, and then after lunch, the kids play on the splash pad while we wait, hoping the artisanal cheese doesn't melt in the bottom of the stroller. Such concerns such a luxury and these Saturday mornings a highlight of family life in the city.
That's not the half of it though, as demonstrated by the stories told in the new book The Stop: How the Fight for Good Food Transformed a Community and Inspired a Movement by Nick Saul and Andrea Curtis. We thought we knew what The Stop was all about–I bought their cookbook a few years ago, and used it so thoroughly that it no longer has bindings (and I continue to use it still- oh, the fish tacos, the beef stew, that strawberry bread!!). We visit the market a few times a year when we're hungry and in need of a trek. And this Christmas, we divided our annual food-bank donation in two and gave half the money to The Stop instead. But for all our enthusiasm, it turns out we didn't know The Stop at all.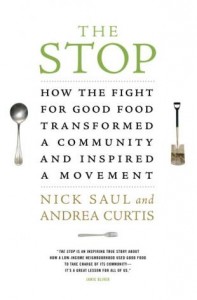 It turns out that the hub of The Stop is not the Green Barn, where the farmers' market takes place each week, where Jamie Oliver paid a visit not too long ago. The real heart of The Stop, instead, lies a few kilometres west down Davenport Road at their main office, which was a small food bank when Nick Saul became executive director in 1998. It didn't take long for Saul in this role to become disillusioned with the food bank system, which, he tells us, is a relatively recent invention. Food banks came about in the 1980s as a temporary solution to community hunger, but they stayed around as government programs for dealing with these problems were being reduced at the very same time. And now it seems as though we've always had them, food banks, systems we support by dumping store-brand Kraft Dinner in grocery store bins every once in a while before heading home to feast on artisanal cheese and organic kale.
The Stop is written by Saul and his wife, award-winning writer Andrea Curtis, but told in Saul's voice as he outlines his decade and a half with the organization. The problems with the food bank, he realized quickly, were manifold: it was a stop-gap measure; users picked up their hampers and left feeling diminished; the contents of the hampers weren't anything that anyone would choose to eat, and did nothing to contribute to a healthy diet. There were other things going on at The Stop though that were having a more positive impact, such as their Healthy Beginnings Program, which taught food and nutrition skills to pregnant low-income women. Other initiatives came about–a community garden, cooking classes, drop-in meals. Around all these, a real sense of community began to form. Users came to The Stop and began to find it empowering, to find places where they could contribute to their communities and get involved.
Change is hard though, and Saul outlines how difficult it was to shift the centre's focus away from the traditional food bank's. First, because The Stop's volunteers felt good about what they were doing and didn't appreciate their efforts being criticized. The general consensus was that anyone using a foodbank hamper didn't have the right to turn their nose up at anything, wilted lettuce, fetid peppers, and all. But Saul was convinced there had be a better way, and slowly, step-by-step, his organization began to blaze that trail. The community garden, he admits, is never going to feed the world, and there are many people who use The Stop whose problems are so complex that those problems are never going to be fully resolved, but many lives have been changed by the place (including those of the babies in their Healthy Beginnings program, all of whom were born at a healthy birth weight last year) and a community has found its spirit.
With The Stop's Green Barn, Saul writes, "we can have a role tapping into the largely middle-class enthusiasm about food we're seeing and connecting the dots between the poor and everyone else." Because the poor, he explains, are largely excluded from the foodie revolution of the last few years. While I'm snacking on my organic kale chips, rising food costs are putting healthy food further and further out of reach of people who could benefit from it as much as I do. Saul checks Michael Pollan's "vote with your fork" philosophy, and points out that for all the good of the movement, it leaves lower-income people as disenfranchised as they've ever been.
Nick Saul left The Stop in July 2012 to become president and CEO of Community Food Centres Canada, which aims to bring The Stop's movement and innovations to communities across Canada, and after reading the book, I am confident in this new organization's success and so excited by the work they're doing. These aren't political issues, Saul tells us, but instead these are issues of morality. The Stop is a fantastic story well told, compelling to read, and it will inspire readers to reconsider their relationships with both the food they eat and the people they live amidst.