March 24, 2013
In the Tree House by Andrew Larsen and Dusan Petricic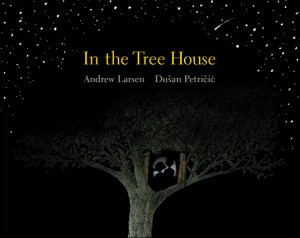 Oh, there is nothing else quite like a tree house. We like to imagine that we live in one, what with the giant trees that cover our house in shade and maple keys, and the squirrels always on the run past our door. But when I was a child, I dreamed of a tree house, a place up a ladder to call my own. I don't know if it was because I was a girl that all fantasies came with visions of curtains at the windows, but I wanted a tree house regardless, a cool place for summer nights high above my suburban backyard.
With everything my parents did right (which was most things), we still do so delight in tormenting them over holiday dinners with recollections of where they failed us and the story topper-most of all of these is the saga of the playhouse plans. For Christmas 1988, we received a set of blueprints for a playhouse that was never ever built. (My dad also backed his car over my bike on more than one occasion, but that's a story for another day.) In the months that followed that Christmas, we moved to a new city and our nation's economy fell into recession, two factors that probably played a role in the playhouse's failure to come into existence. I don't know what ever happened to those blueprints, but their memory lives on in infamy as a symbol of childhood disappointment, of the hideout we never had. We made do with the basement crawlspace instead, until we grew too tall and started hitting our heads.
And so I was amused to encounter fervid tree house planning in Andrew Larsen's latest picture book In the Tree House, and even to encounter tree house planning disappointment. A small boy moves to a new house with a big backyard and gets to planning: "I planned tree houses that could turn into flying ships at the flick of a switch./ I planned tree houses with secret slides for quick getaways./ I planned one tree house that had two levels, one for me and one for my brother." He and his brother put their plans together and show them to their dad who tells them, "When I was a kid, I wanted a tree house more than anything else in the world." He'd made plans, just like his sons do, but his never came to fruition. And oh, I know exactly how that feels. I'd never seen my own story so expressed in literature before.
Dad gets to work though and builds a tree house with his boys, a fantastic secret space with a view of the entire neighourhood. You can't see the stars because the city is too bright, but you can see the city, and the city is enough.
But the next summer in the tree house, everything is different. The boy's brother is far too interested in hanging out with his friends to partake in tree house things. "So now I'm the king of the castle," the boy explains. "I can do whatever I want up here." I point to the illustration of the boy, his chin resting on his hand, his mournful expression. "Do you think he likes being king?" I ask Harriet. "No," she answers. "He's lonely."
When one night a blackout casts the city into darkness though, everything is different though if only for a little while. The neighbours emerge from their houses and urgently seek community assistance in the consumption of melting ice cream. They share candles and flashlights, observed by the boy up in his tree house whose brother has come to join him. For one magical evening, the neighbourhood is alive, and the boy realizes that his brother is fundamentally the same person he always was, that some elements of their relationship will stay the same no matter what else is changed, but also that nothing lasts forever. Childhood magic is as fleeting as a summer night, moments to be savoured while they're here.
Because the lights come on again, but the story ends with one of Dusan Petricic's fantastic illustrations, the two boys silhouetted up in the tree together, watching the whole world twinkling below them.