March 19, 2013
Going Postal with Picture Books
(This post is cross-posted over at Bunch!)
It's a widely known fact that I am a postal enthusiast, that the delivery of the mail is the focal point of my day, and that I am eternally delighted by books in the post. But just as much am I thrilled when the post turns up in books–I loved Kyo Maclear's The Letter Opener, and also epistolary books like 84 Charing Cross Road and the Burleigh Cross Postbox Theft. And I love encountering all things postal in kids' books as well, in particular because it helps inspire postal enthusiasm in my daughter (who has had a pen pal since she was 2, of course). Here is a list of a few of our favourites that we've encountered lately.
The Jolly Postman by Allan and Janet Ahlberg: I know, I know, you've read this one already, but any book by the Ahlbergs never gets old. It's the perfect union of all the things I love: postal themes, bookishness, fairy tales and nursery rhymes, and amazingly well-produced books with meticulous attention to detail. Follow the Jolly Postman on his round as he drinks cup after cup of tea, and provides intimate glimpses into the lives of familiar characters we only thought we knew.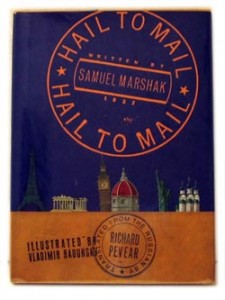 Hail to Mail by Samuel Marshak and Vladimir Radunsky: The mailman delivers a certified letter for Mr. John Peck of Schenectady, only to discover that he's just left town. The postal-system is ever-reliable, however, and its workers are determined to track John Peck on his round-the-world trip in an effort to get the letter into his hands. The story ends right back where it began, Marshak's verse and Radunsky's stylized illustrations making for a remarkable journey.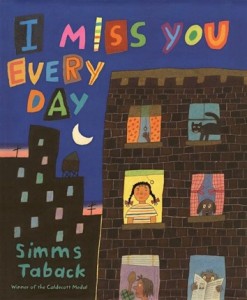 I Miss You Every Day by Simms Taback: Taback is a Caldecott-winner and his talent shines through in this picture book, which was inspired by the Woody Guthrie song "Mail Myself to You." In Taback's story, a little girl imagines mailing herself to a far-away friend. The illustrations are whimsical and attractive to children, and I particularly love the gallery of imaginary stamps on the book's back cover.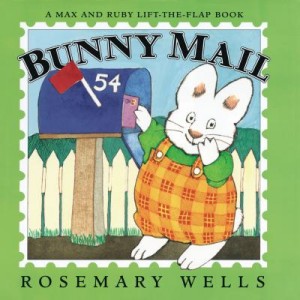 Bunny Mail by Rosemary Wells: I really am fascinated by the weirdness of Rosemary Wells' books–there is more to Max and Ruby than simple bunny-cuteness. In Bunny Mail, Ruby sends invitations to a 4th of July picnic while Max writes to Santa (via Grandma) expressing desire for red motorcycle. Except that Max can't write, so Max's letters are mostly composed of tire track, but no matter–Grandma figures it out. And little hands will enjoy lifting the flaps to "read" what Max and Ruby's letters say.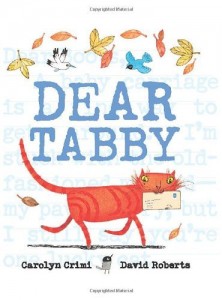 Dear Tabby by Carolyn Crimi, illustrated by David Roberts: Oh, it's a familiar trope, the alley-cat turned advice columnist. We loved this book about a scrappy cat who receives letters from all manner of pets–embarrassingly-pampered felines, talkative birds, dissatisfied hamsters, and lonely skunks. With her no-nonsense approach, Tabby D. Cat sets these creatures straight, though the book's ending reveals that Tabby's taking care of herself as well. Points also to this book for involving something called "The Dingaling Sisters' Travelling Circus".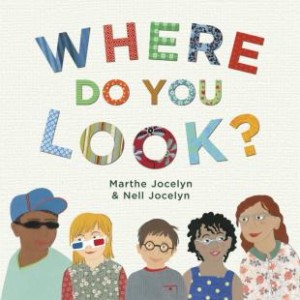 Where Do You Look? by Nell Jocelyn and Marthe Jocelyn: While not strictly a postal book, I was thrilled to find a bit of mail in this brand new offering by the remarkable Jocelyn team with their amazing collage illustrations. "Where do you look for a letter?" the text asks against a fantastic airmail envelope background. "In the mailbox?" (with an image of a child posting said envelope in a red mailbox), "Or on the page?" (with the alphabet spilled across a two-page spread in haphazard fashion). Like all the best books, Where Do You Look? challenges any ideas of the world being a simple place (or language being simple to comprehend) and adds texture to the way its reader sees the world.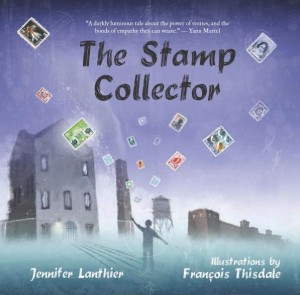 The Stamp Collector by Jennifer Lanthier and Francois Thisdale: This book only came out last Fall, but has already won a ton of acclaim in Canada and in the US. It's the story of two boys growing up in China whose paths cross in an unlikely fashion. One discovers a postage stamp on a scrap of paper, and becomes conscious of a world beyond his own. The other becomes a writer whose ideas challenge the government and lead to him becoming a political prisoner. While in prison, the writer is sent letters through the PEN Writers In Prison Program, which are intercepted by prison guards. One of these guards is the stamp-collecting boy, now grown, who takes notice of these letter arriving from all over the world and establishes a relationship with their recipient. It's a dark story, but one that's leavened by Thisdale's beautiful illustrations, the suggestion of a hopeful ending, and the fact that proceeds from the book's sales are being donated to PEN Canada.